This article is more than 1 year old
Our cookies save you from TERRORISTS, Facebook thunders to Belgian judge
Facebook's just like the NSA, regulator says
Facebook's long-anticipated privacy case in Belgium has begun, with lawyers for the country's privacy regulator asking the judge not to be "intimidated" by The Social NetworkTM.
The regulator's set the rhetoric-rheostat to "high", accusing the advertising network of acting like America's NSA in the extent of its spying on users.
The regulator is hoping to force Facebook into line with Belgian law or face fines of €250,000 a day.
Acting for the Belgian Privacy Commission, lawyer Frederic Debussere said Facebook "will argue our demands cannot be implemented in Belgium alone. Our demands can be perfectly implemented just in this country", Bloomberg reports.
Returning serve, Facebook's opening laid out an argument familiar to anyone who's watched the company's ongoing battles with European regulators: its operation is based in Ireland, so that's the regulation it needs to follow.
"How could Facebook be subject to Belgian law if the management of data gathering is being done by Facebook Ireland and its 900 employees in that country?" lawyer Paul Lefebvre asked.
With the ad server being accused of acting like the NSA, it's probably appropriate that Lefebvre raised the spectre of terrorism if it's forced to stop tracking people and ditch its intrusive Like-harvesting.
Lefebvre told the court the company's practice of planting cookies on everyone who visits a page with a Like button on it – whether or not they have any interaction with Facebook – is actually an info-sec measure.
The cookies, he said, "allow Facebook Ireland to identify bad faith attempts to gain access via the browser being used.
"If this would no longer be possible, Belgium would become a cradle for cyber terrorism."
The Social NetworkTM has been quietly turning on "Like button cookies" all around the Web over the last year, when it announced the rollout of a new ad-targeting program.
If you happen to visit a page showing a Like button, you get a Facebook cookie planted, even if you don't use the button.
In last week's blog post, the ad-farm's grandly-titled Global Deputy Chief Privacy Officer Simon Deadman described the move as "a new way to control the ads you see", because there is a privacy setting that lets people turn off having ads targeted based on what they read when they're away from Facebook.
Deadman notes that the company's been harvesting your third-party site visits for some time: "For example, with online interest-based ads, if you visit hotel and airline websites to research an upcoming trip, you might then see ads for travel deals on Facebook," he writes, adding that over the last year "we've been gradually introducing it around the world".
That's the cookie that Lefebvre says protects the world from terrorists.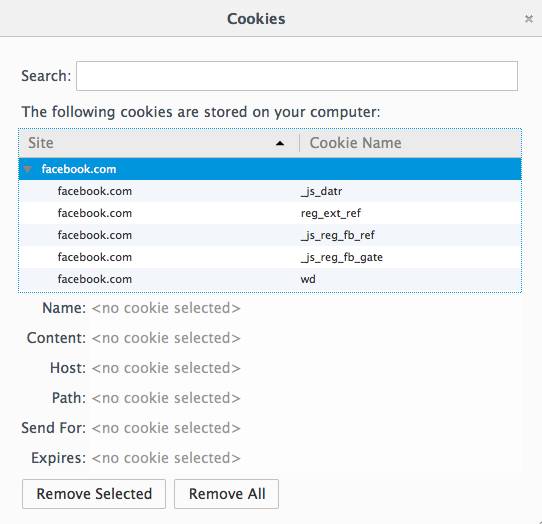 Facebook's datr cookie
Not that it makes much difference. Vulture South notes that the infamous "Datr" cookie that first exposed Facebook's snooping to the world is still planted by Facebook.com.