This article is more than 1 year old
Alcatel Idol 3: Holding its own with a pretty decent 5.5 inches
The affordable Android thingy you can watch every which way
Review The phrase "this now the best smartphone below so-and-so quid" is going to get worn out at this rate.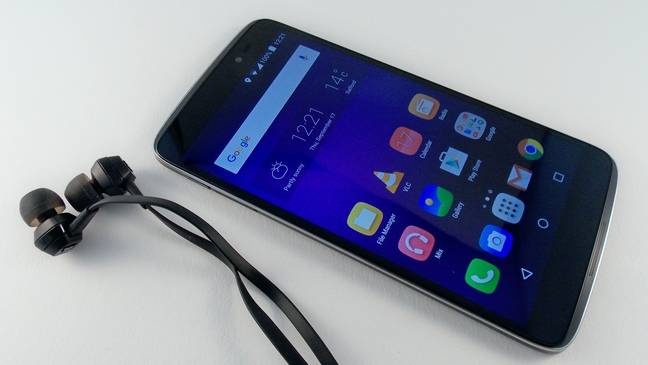 Idol 3 has JBL speakers, music app and earphones. All three are rather good
The Mk 3 Motorola Moto G, the Wileyfox Swift and the Huawei Honor 7 have each recently been hailed on these very pages as a best buy at, or below, a given price point. Well here we go again, thanks to Alcatel's new Idol 3 handsets.
The Idol 3 range consists of two models. The 4.7-inch, 1280 x 720 Snapdragon 410-based handset is the ugly sister of the duo. The Wileyfox Swift is a better bet for less money. But the 5.5-inch version, which can be found for considerably less than Alcatel's £260 suggested price (at the time of writing Amazon had it on sale for under £180) is an altogether more attractive proposition.
Even a cursory glance at the specification is enough to tell you that Alcatel has got its ducks in a very nice row. The 5.5-inch IPS display boasts a full-fat 1920 x 1080 resolution, there's 2GB of RAM and 16GB of storage, front-facing stereo speakers, 13 and 8MP cameras and an NFC chip.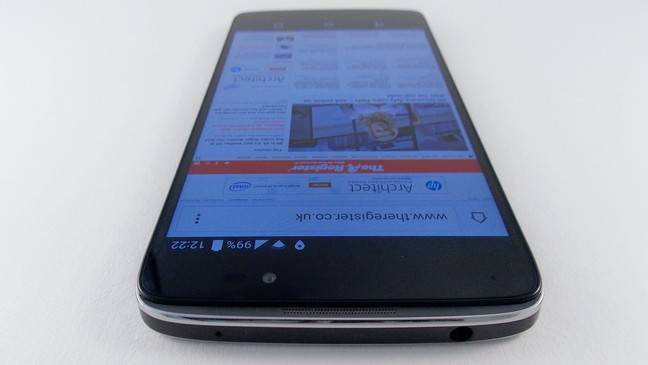 Stereo speakers tucked away at both ends of Idol 3. Look inconspicuous, sound great
The Idol 3's design offers something that Alcatel touts as an exclusive: 100 per cent reversibility. What that means is that unless you look at the front very carefully, it's impossible to tell which way up you are holding it. The tell-tales are the webcam lens and power and volume controls. If these are at the bottom rather than the top then you are holding it upside down. You can't tell by looking at the screen because the UI, including the home screen, can flip through 180 degrees.
I'm struggling to see quite what the point of this is, other than giving you the option to have the audio jack at the bottom and the microUSB port at the top rather than the other way around. If you struggle too, then turn off the screen-flip feature. Doing so won't interrupt the more usual screen transition from portrait to landscape.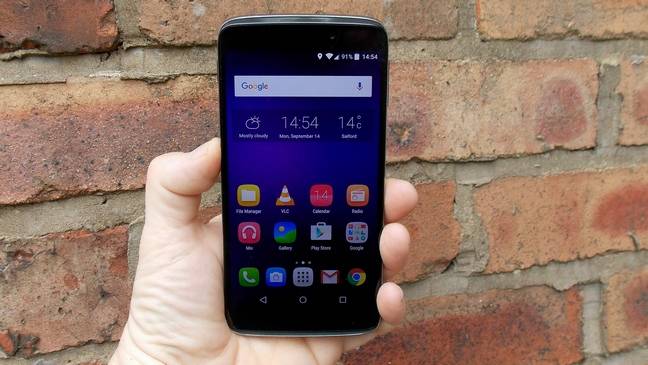 Handset is perfectly symmetrical and screen can flip through 180 degrees. Easy to hold for 5.5-incher too
Gimmick or not, that 100 per cent reversibility has resulted in a visually balanced and altogether rather fine bit of product design. Despite the large screen and the stereo speakers tucked away in the top and bottom edges, the Alcatel is only 152mm tall and has a commendably thin profile of just 7.4mm.
For a 5.5-incher it is surprisingly light, too; 141g to the iPhone 6's 172. The Idol 3 feels solid and robust and rests easily in the hand thanks to those compact dimensions and slightly rounded back.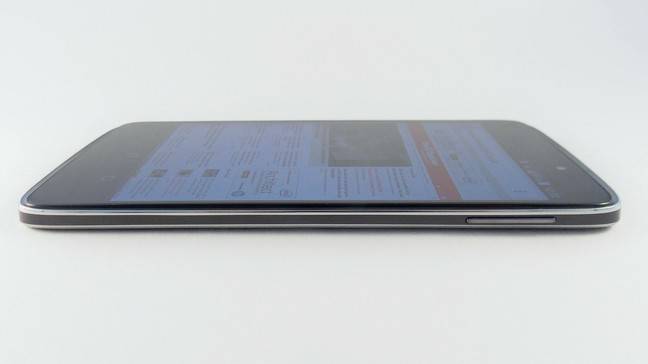 Idol 3 weighs 141g and is 7.4mm thick. Respectable figures both for a 5.5 inch device