This article is more than 1 year old
Total War: Warhammer, Blood Bowl and other Games Workshop table-to-screen delights
Giant chess with a Terminator? Bring it on
Plague, rats and death. That's just the cover art
There's been a huge improvement in the AI of Blood Bowl, which has caused much appreciative chatter, but I still prefer playing against real players because there's nothing like stamping on someone else's star player.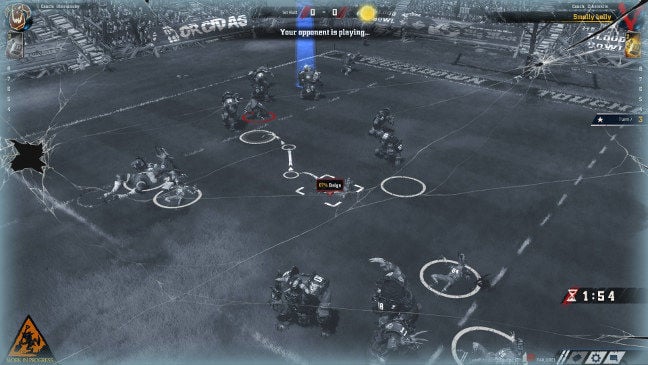 Opponent: Blood Bowl display as the other guy has his turn
Whenever I want to complete an action like a dodge, a pass, or moving an extra square of turf, I am shown the percentage chance of completing it on the screen. I don't want to chance my luck all the time because a failed dice roll means the end of my turn, which is called a turnover. So I make sure to complete as much of my team's movement before I start rolling.
As much as I love Skaven, I find their low armour and fast movement not to my play style. I find it's more pleasurable to play a bashing team over an agile one. Even if I don't score I can gain experience from injuring the other team.
Blood Bowl is a brutal game set in an unforgiving world so I expect my enemy to stall with the ball and foul my star players whenever I give them half a chance.
There are four teams available to play in the beta: Skaven; Dwarfs; Humans; and Orcs. When the full game goes live another four will be added. The controversial DLC will introduce more for a price. Nuffle, the god of Blood Bowl, would not be impressed – unless he, too, is profiting from royalties.
These are two Games Workshop games that I have recently relished playing and that I suspect you will too if you played the tabletop miniatures game in your youth, like I did. But that's not all: there's a plethora of titles storming, like a company of Space Marines, towards your gaming platform of choice. But will they join my replay list like Dawn of War, or be what I consider shockers like Space Hulk?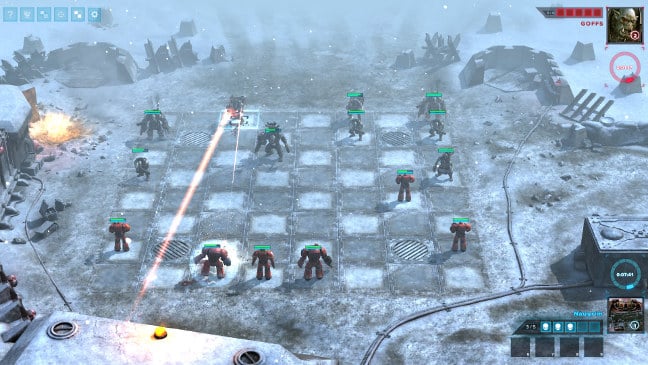 Regicide: Chess, as played with figures from the Warhammer 40,000 universe
Warhammer 40,000: Regicide is first out of the stable, Knights and pawns are replaced with Space Marines and Orcs in this gore gallery of a digital chess match.
Warhammer: The End Times – Vermintide recently got the hacks excited at PAX. Developers Fatshark seem to have outdone themselves with this multiplayer shooter, where me and my team fight off waves of Skaven. At first look reminds of me of a medieval Left4dead with added rodents. http://www.vermintide.com/
The Battlefleet Gothic: Armada teaser trailer was released a couple of weeks ago and I was treated to a stunning epic-scale space battle with customisable gigantic battleships. I never got round to playing the table top version of this specialist game, so I'm not all that bothered by it not being turn-based in its new incarnation. Wannabe starship admirals should definitely keep eye on the virtual horizon for this RTS stunner.
Total War: Warhammer is currently in development at Creative Assembly and has to be my most anticipated game in this list. Warhammer Fantasy Battle, the miniatures game, isn't known for its balance, so we're keeping our fingers crossed that CA implements a fairer RTS theatre of war.
Development diaries show glimpses of the alpha's extraordinary footage, featuring Dwarfs, Greenskins and The Mighty Empire dive bombing the battlefield on Griffins from the sky. Be warned, though: there is bound to be a wallet-emptying amount of downloadable content with this game, but I'll happily pay for the return of the Chaos Dwarfs or even Warhammer's long-lost army, the Dogs Of War. ®