Microsoft Office 2016 for Windows: The spirit of Clippy lives on
New look, new features, same old issues, but quietly impressive nonetheless
---
First Look Microsoft has released Office 2016 for Windows, over two and half years after the launch of Office 2013 in January of that year.
The Office team has been busy in the intervening period – and not just with Office 2016. March 2014 saw the release of Office for iPad, including Word, Excel, PowerPoint and OneNote in touch-optimised versions, which pack a lot of features behind a simplified user interface.
This was followed by versions for iPhone, Android tablets and phones, and Office mobile apps for Windows 10, all of which have similar features and, we are told, are built from the same code base.
Office also has a cloud component, via integration with Office 365, Microsoft's hosted email and productivity suite. The core cloud product is SharePoint Online, for document storage and collaboration, which includes Office Web Apps for creating and editing documents in the browser.
This is supplemented by other applications, including Office Sway for online presentations, and Office Delve, which performs contextual search across SharePoint Online informed by what the company calls the Office Graph – data derived from your contacts and usage of Office 365.
Delve has mobile apps for iOS and Android, but Windows users miss out.
There are also versions of Outlook, Microsoft's email and calendaring application, for iOS and Android, as well as Windows and Mac. The mobile versions of Outlook are based on Microsoft's December 2014 acquisition of Accompli – they handle not only Office 365 and Exchange email, but also Google Mail, iCloud, Yahoo and any IMAP server.
Microsoft's Office strategy seems to be about supporting Office 365 and maintaining its position as the dominant format for business documents by supporting all the most popular platforms, rather than focusing on the Windows product suite.
This strategy, along with the fact that the core products are more than mature – Excel for Windows goes back to 1987, Word to 1989 – may be the reason why Office 2016 is not replete with new features.
The core of these applications seems little changed in this release, and there is nothing in Word that will change the mind of Charlie Stross, who a couple of years back wrote that "Word was in fact broken by design, from the outset – and it only got worse from there."
For years, Word experts have recommended against using the Master Document feature for long documents, because they corrupt, and this release is unlikely to be different. Outlook's user interface remains convoluted for advanced tasks, such as opening another user's mailbox. This option is buried in File > Account Settings > Select account > Change > More Settings > Advanced tab. Phew.
Will Microsoft ever fix such issues? Dream on.
What is new, then? When Office 2013 was released, Microsoft applied a touch of Metro design, visible in all CAPS menus and a washed-out appearance that was in line with content-first principles, though this made little sense in the context of editing tools.
Office 2016 restores upper and lower case menus and adds a new "colourful" theme as the default – an improvement, in my view. There is also a Dark theme, which Microsoft says is aimed at people with visual impairments.
The next thing you will notice is a lightbulb in the ribbon menu in Word, Excel and PowerPoint, captioned "Tell me what you want to do". The idea is that rather than hunting through the ribbon, you type something here: "Spell check" in Word, for example. The action you want should then appear in a list, and when you select it, it is performed.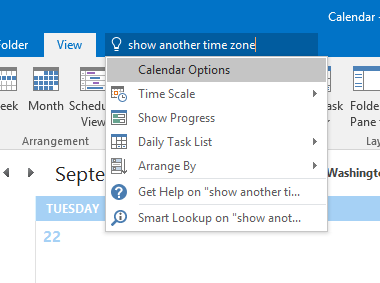 Office 2016 "Tell Me" found the right place to show a second time zone
"Tell Me" is the latest effort to make Office easier to use. Some will remember Clippy and "it looks like you're writing a letter" in Office 97. Unlike Clippy, "Tell Me" does not get in the way, but functions as a kind of search-driven user interface. It responds to the Alt-Q keyboard shortcut and works well if you would rather not pick up the mouse, or are not sure where to find a command.
In Outlook, I typed "Show another time zone", and Tell Me successfully found Calendar Options. In Excel I typed "Find the average" but this seemed to stump Tell Me, which offered AutoSum, though there is a Help option that did open a relevant topic.