Real-time co-authoring
Another new feature is real-time co-authoring in Word, PowerPoint and OneNote (although not Excel). Collaboration in Office is not new: Office 2010 introduced real-time co-authoring based on SharePoint 2010, and this is also possible with the in-browser Office Web Apps. Office 2016 has a new implementation which allows real-time collaboration on documents saved to Office 365 or OneDrive.
This time, edits appear as they are made, rather than when each user saves. I tried this successfully with Word using consumer OneDrive, and was able to see my collaborator's edits appearing as they were made, though it was somewhat laggy over the internet. Office 2016 or Office Web Apps is required at both ends.
A user interface change in Outlook encourages users to share document links instead of attaching them to emails. Links are now the default if you click Attach File, if the document is saved to OneDrive or Office 365. The dialog also automatically shows a list of recently used documents, which is a neat touch.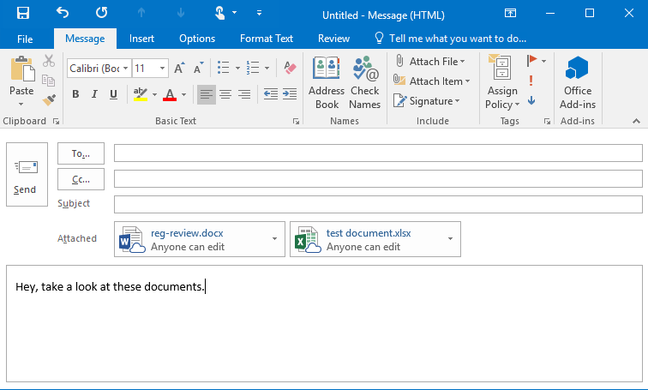 Attaching a cloud file results in "anyone can edit" links by default
Changing defaults is a powerful technique for changing behaviour, but although having a single shared document is a more advanced way to work, there is also potential for confusion, particularly as Outlook 2016 appears to attach links with edit permissions by default.
Once attached, you can change the permissions or choose Attach as Copy. There is sleight of hand here: "attaching" a file is not the same as sending a link, and users who do want to attach files may find the new defaults obstructive. Users will need to understand the implications, for example that "attached files" in old emails may no longer exist, or may have different content.
Another Outlook collaboration feature is Groups, based on Office 365 groups. Office 365 subscribers can create groups from within Outlook, providing a shared calendar and document store as well as a simple mailing list.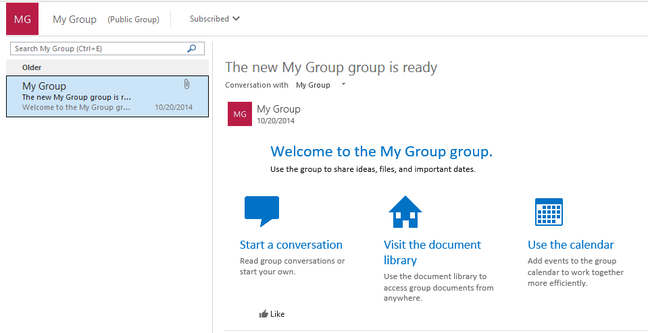 An Office 365 group is now visible in Outlook
A small change in Outlook, aimed at devices with small amounts of storage, lets you limit the length of time emails are stored offline to as little as 3 days.
The Office 365 Clutter feature, which automatically sorts low-priority email into a separate folder, is now manageable from Outlook as well as online.
Excel 2016 has new chart types, including Waterfall, Box and Whisker, Treemap and Sunburst. There are also new forecasting functions and a forecast sheet wizard. Power Query, formerly a downloadable add-on, has been integrated into the main release and lets you analyse data from multiple sources, including SQL databases and Hadoop files. Business intelligence features have been enhanced, with automatic time grouping in pivot tables and the ability to drill into data direct from pivot chart visualisations.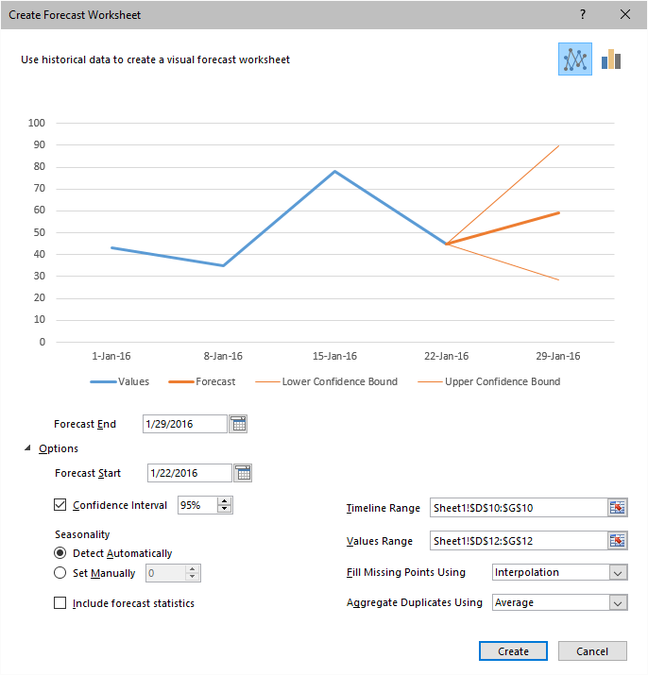 Creating a Forecast sheet in Excel 2016