Comment IT biz Northern Backup has replaced Hitachi, Dell and HP SAN arrays with Nexenta storage, which it chose ahead of VMware VSA, Nutanix and SimpliVity alternatives because Nexenta storage was both cheaper and faster.
Calgary-based Northern Backup was started up in 2004 and offers offsite back-up, managed hosting and support services to more than 50 small and medium enterprises.
It's been enjoying exponential growth and it uses vSphere internally. The company initially used SAN arrays from Hitachi, then from Dell and HP, but found it was forced "to buy a large batch of storage every six months, yet [was] also forced to retire SANs after 28 months due to restrictive storage hardware licensing and support cycles".
Chief architect Brent Thumlert, who joined Northern Backup in 2009, said: "While we were able to meet our customers' needs, we felt like we weren't in control of our own destiny when it came to storage. We knew there had to be a better way, so we started evaluating alternatives. Software-defined storage was rising in popularity, and gave us the flexibility not to be locked into anyone's hardware."
The firm said it wanted the flexibility and performance of SDS coupled with the freedom and cost effectiveness of off-the-shelf commodity hardware, and evaluated VMware vSAN, Nexenta, SimpliVity and Nutanix.
The NexentaStor software ran with an HP D6000 disk enclosure, filling it with 256TB of SATA disk – a JBOD in other words. NFS was used to load and access data on the drives.
Nexenta was both the fastest and least expensive. Thumlert explained: "We measured performance using Microsoft SQL IO tool, a read/write-intensive application and the most demanding query for that application. It is a random write to a bunch of disks in small increments. We saw 27,000 IOPS performance with NexentaStor compared to 2,000 IOPS for our previous systems. This translates into faster delivery of data-intensive applications such as SAP reports and CRM application use... Overall, we're seeing a 50 per cent [lower] average write latency coupled with a four times performance improvement."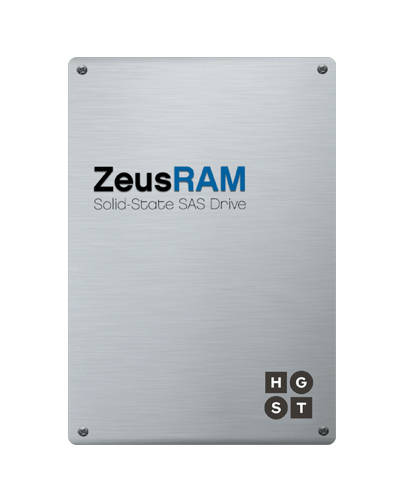 HGST ZeusRAM SSD
However, much of that performance boost came from using ZeusRAM drives, a high-speed memory caching device available from HGST.
There was also a $100/GB lower overall storage cost "compared to their typical SAN installation and the current alternatives".
Thumlert said: "Right off the bat, the cost per Terabyte of the Nexenta installation was around 60 per cent [of the existing SAN]. We got that just from switching from the boxed, tier-one SAN vendor to open-source software with Nexenta providing the real meat, and then going to standard HP hardware."
High-availability concerns were met with 100 per cent uptime business continuity features, and "instant hot disk replacement of any failed disk".
The fact of the storage software being separate from the hardware means: "As technology gets denser, we can increase density with any hardware vendor we choose. We'll use the same Nexenta storage platform and it will easily adjust as content adjusts. Now, I can go to Western Digital or HP and buy an 8TB drive. If you called Hitachi, they would never make that drive for those old systems."
For this medium enterprise, its software-defined storage was both faster and cheaper by 40 per cent, offering equivalent functionality – at least – to VSAN and the two Hyper-converged Infrastructure Appliance (HCIA) vendors and beating the three traditional SAN suppliers' systems.
It gained speed, flexibility, freedom from traditional vendors' restrictive practices, saved cash and enabled itself to use higher capacity disk drives in the future. Seriously, what is not to like about that? ®