SimpliVity saddles up the lawyers, sues rival Springpath
Tomorrow we ride for hyper-converged patent infringement justice
Hyper-converged startup SimpliVity is suing hyper-converged startup Springpath for allegedly wrongfully using its patented technology.
Both vendors supply hyper-converged infrastructure appliance (HCIA) systems. SimpliVity sells packaged hardware and software, including an application-specific integrated circuit (ASIC) of its own design.
Ex-EVault boss Terry Cunningham became Springpath CEO in May this year. His company sells the Springpath Data Platform, which uses "patent-pending Hardware Agnostic Log-structured Objects (HALO) architecture... engineered... to deliver superior data services, storage efficiency, high performance and scalability without caveats".
It provides file, block, object and – via a plug-in – Hadoop storage. Springpath was founded in 2012, the year SimpliVity introduced its OmniCube product.
In case number 4:15-cv-13345-TSH in the Massachusetts district court, SimpliVity alleges Springpath is infringing US Patent No 8,748,799 ("the '799 patent") entitled "Namespace File System Accessing an Object Store", which "was duly and legally issued to SimpliVity on July 2 2013".
The patent abstract reads:
Method and apparatus for providing a digitally signed file system wherein a namespace file system accesses an object store in which data, metadata and files are objects, each object having a globally unique and content-derived fingerprint and wherein object references are mapped by the fingerprints; the file system has a root object comprising a mapping of all object fingerprints in the file system, such that a change to the file system results in a change in the root object, and tracking changes in the root object provides a history of file system activity.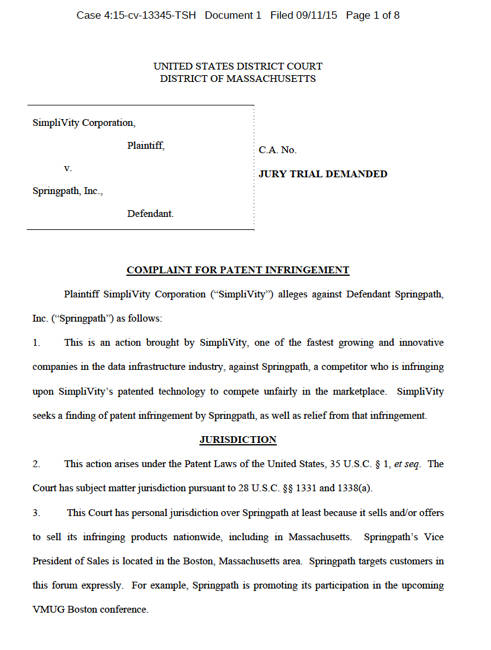 SimpliVity court filing document's title page.
SimpliVity claims that "Springpath has deliberately investigated SimpliVity products and has developed products that closely match functionality developed by SimpliVity".
It wants a jury trial, damages for the infringement and prevention of any further infringement.
We have asked both companies for comment and will tell you more when we know more. ®