This article is more than 1 year old
Thanks for the memory: XPoint put under the analyst microscope
80-page report gets under the skin of memristor-slaying 3D XPoint tech
Semiconductor market researcher Jim Handy of Objective Analysis has produced an 80-page report looking into what XPoint memory is, how it could be used and what its prospects are.
XPoint memory was unveiled by Micron and Intel in July to general amazement. The pair claimed it was 1,000 times faster than NAND, ten times denser and also less costly than DRAM, and would form a new memory hierarchy between DRAM and flash.
The report explains how 3D XPoint memory can be so much faster than NAND and yet be able to shrink to smaller cell sizes because its cells do not contain space-consuming transistors. Instead, it uses diodes.
It shows how Micron and Intel have been able to use the simple crosspoint memory array structure, with two decks or layers, because of a careful choice of the memory cell material and the associated selector material, while dealing with a so-called sneak path problem.
The memory cell material itself is not identified, with Handy noting that when its binary value changes from zero to one this is detected by a change in its resistance, making it a form of Resistive RAM (ReRAM or RRAM). The material's resistance level changes because of a bulk change in its atomic and/or molecular structure.
This, Micron and Intel have emphasised, is not a phase change from an amorphous state to a crystalline state, as with PCM (Phase-Change Memory) technology.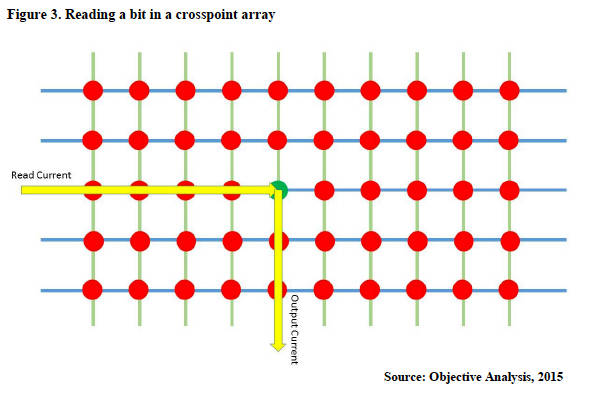 Reading bits in a crosspoint array. The red dots are unset memory cells (binary 0) with the green dot being a set bit (binary 1). The blue lines are wordlines with the green ones being bitlines
The report explains the need for a new layer in the memory-storage hierarchy and says: "Intel will be using its Optane products to insert a new layer between DRAM and NAND flash, and this layer will be made of 3D XPoint memory." He thinks it will take some time for XPoint product processes to manufacture chips with a lower cost/bit than DRAM.
Handy says XPoint will not replace NAND, but will be used instead as a persistent, fast memory store in servers, taking sales away from DRAM. This will require both hardware and software changes in servers to create so-called storage memory. There will be XPoint (DDR4) DIMMS sitting below DDR DRAM in the memory storage hierarchy, with XPoint NVMe SSDs below them, then ordinary NAND SSDs followed by disk.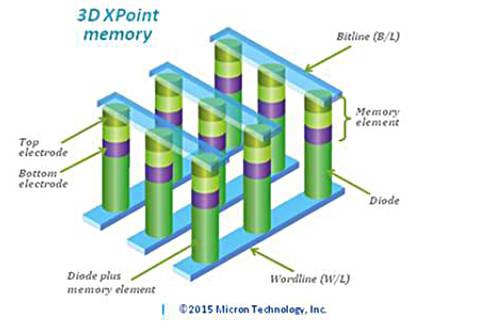 XPoint diode use
Intel will release open-source Optane software to enable server OSes and applications to use XPoint memory. This software will be a key enabler of the technology.
Handy thinks production shipments could start in 2017 with a potential $2.12bn market by 2019.
There is no other game in town in this area of the memory-storage hierarchy and its effects could be profound and occur quite quickly. For example, Handy believes HP has abandoned the memristor and will use XPoint memory in its Machine project.
There is a huge amount of information in the "A Close Look At The Micron/Intel 3D XPoint Memory" report. It can be ordered from the Objective Analysis website. ®