Australia's celebration of its glorious new leader has been soured by a federal government "anti-radicalisation" education kit that lists alternative music and environmentalism as signs that a youngster is on the way to becoming a danger to society.
Launched this week by justice minister Michael Keenan (who also glories in the title Minister Assisting the Prime Minister on Terrorism), the Radicalisation Awareness Kit is supposed to help school teachers identify which of their students is going to enter the adult world with a penchant for bomb-throwing.
Completely ignored for most of the week, it was only when someone got around to actually reading the propaganda sheet that they noticed the oddities in its case studies – such as, for example, the fictitious Karen, who turned a disastrous shade of green after leaving home.
From the pamphlet:
"When she moved out of home to attend university Karen became involved in the alternative music scene, student politics and left-wing activism." (emphasis added)
(Vulture South would note that Karen isn't from Sydney, because in that city the only people showing interest in the alternative music scene are property developers, and they just want to knock down the pub and build concrete apartments).
If you're of a delicate constitution, go and look at some cat pictures, because things get much worse: "One afternoon Karen attended an environmental protest with some of her friends. It was exhilarating, fun and she felt like she was doing the 'right thing' for society."
Oh the humanity! That one fatal afternoon turns Karen into a dangerous feral, living in a forest camp, sabotaging tree-felling machining, along with arrests and beatings, until finally living through the inevitable splintering of the environmental group.
Lest Australia's hackers feel slighted, The Register is pleased to draw your attention to this image from the pamphlet: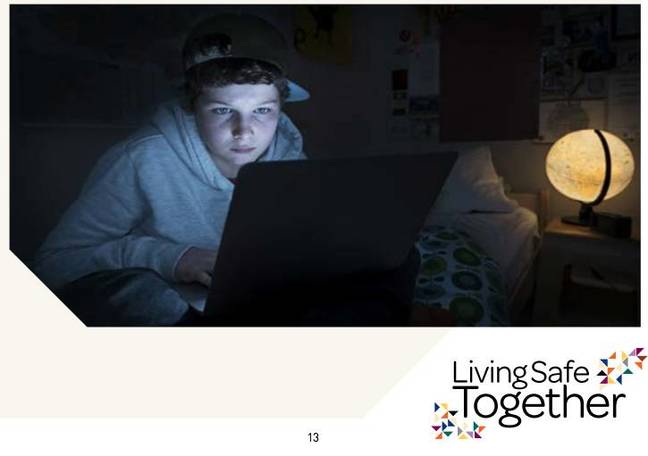 Be afraid, Australia. Be very afraid.
It's particularly gratifying that the authors or editors managed to highlight this dire threat on Page 13 of the document.
Teachers and environmentalists stopped laughing for just long enough to tell the Australian Broadcasting Corporation how outraged they are.
So, El Reg readers: what music is your favourite path to becoming a dangerous environmental radical? Answers in the comments. ®