This article is more than 1 year old
Gold bugs, concrete bog roll holders and frolic-friendly furniture: What IS it with designers?
The weird and wonderful gather at Olympia
Aqua-Chic
If you're old-fashioned enough to insist on your furniture being comfortable, you should take a look at Pigro Felice's inflatables, which bring pool furniture firmly into the upper price bracket. Sturdily made in leather-effect rubbery plasticky stuff, it comes in a small range of dullish tones that contain no artificial colour stabilisers so it's better for the environment, or won't give you cancer, or something.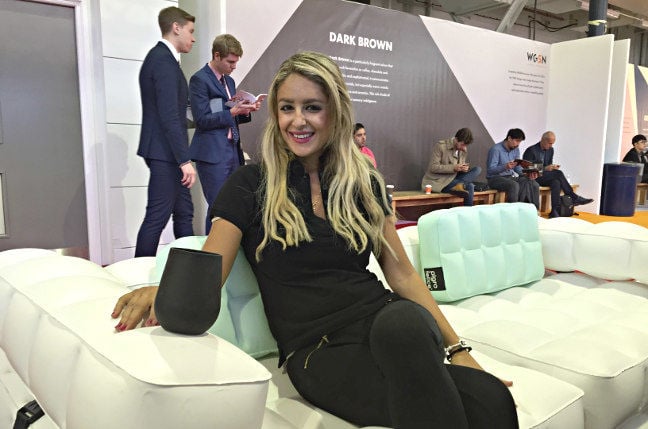 Aqua chic: Comfy inflatables for the wealthy pool-owners amongst you
And if £579 for an inflatable sofa sounds perfect for your pool, you'll be pleased to know you can strap the things together with armchairs and "water hammocks" to create floating oases. Best of the accessories: a weighty drinks tumbler for just £9 that sticks magnetically to metal disks in the furniture arms, ending forever the nightmare of your Pimms toppling into the water.
Oh, and you can also get a full-size inflatable seal for £69. See the range at pigrofelice.com.
Alegna
Enamel? Polyurethane? Your ideas of what baths should be made of are just so last millennium. Step forward the wooden bath, this one crafted from yacht-varnished oak, from alegna.ch. It looks gorgeous, will never need revarnishing, and can be yours for just £11,000.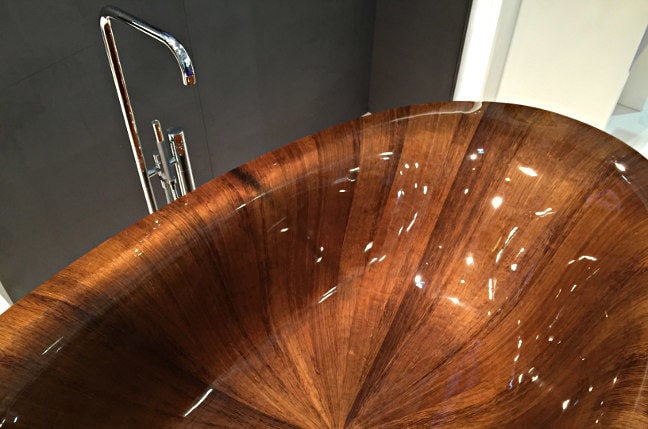 Wooden bath: That's eleven grand's worth of mod con bathing right there
OK, there are no holes for the taps, but at least you'll be able to bathe safe in the knowledge that in the event of a flood you can paddle your way to safety in it.
Piece
It's a sideboard. Made of wood. Which isn't such a surprising material, except that this sideboard has been built to look like a bundle of wooden beams. It cunningly conceals both a drawer in the end and two hidden doors, their joins concealed by the straps, that open to reveal spacious storage inside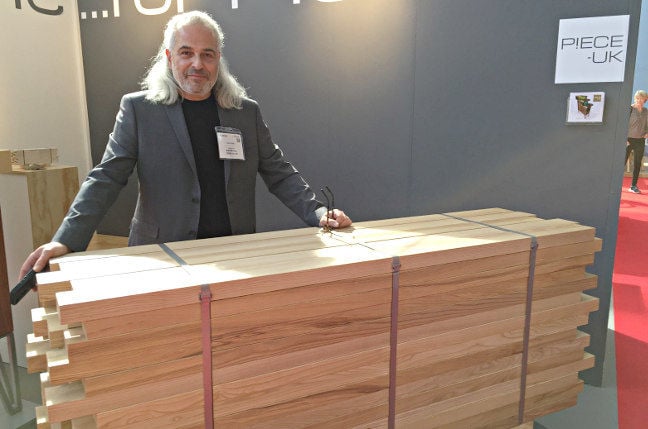 Planks: This is actually a sideboard, not a shipment of lumber
"The problem is transport," confesses designer Gary Mann. "Even a two-man team can't move it. Health and safety."
Only just into production, they've so far sold four of these intriguing units - you can buy the fifth at piece-uk.com.
Johema
Tables are no longer just tables – they're desks, storage units, and work surfaces. Well, that's fair enough, but Mario Pereira (pictured) wasn't able explain just how this pivoting section of his £2,300 folding table was supposed to benefit its owner.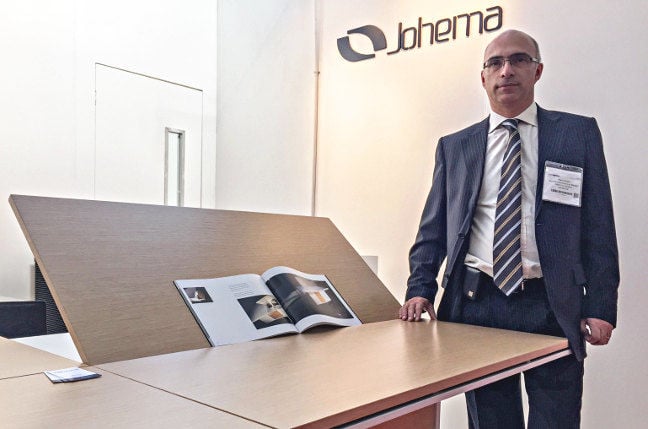 Johema: Mario Pereira poses with one of the firm's desks
"It's for drawing," he volunteered, but was unable to demonstrate how you could lean across the front of the table to reach the raised back (you couldn't). Answers on a postcard from anyone who can think of a use for this doubtless ingenious piece of design: johema.pt if you want to buy one.