This article is more than 1 year old
Gold bugs, concrete bog roll holders and frolic-friendly furniture: What IS it with designers?
The weird and wonderful gather at Olympia
Lina Moon
Three's a crowd – or at least as far as furniture goes. How can three people sit side by side without the one in the middle feeling like the ham in a sandwich?
By forking out £207 each for three Moon chairs, that's how. Each unit comprises a rectangular block with a scoop taken out of it; that scoop is a separate piece that slides to make a chair facing in either direction, with a folding end that serves as a pillow.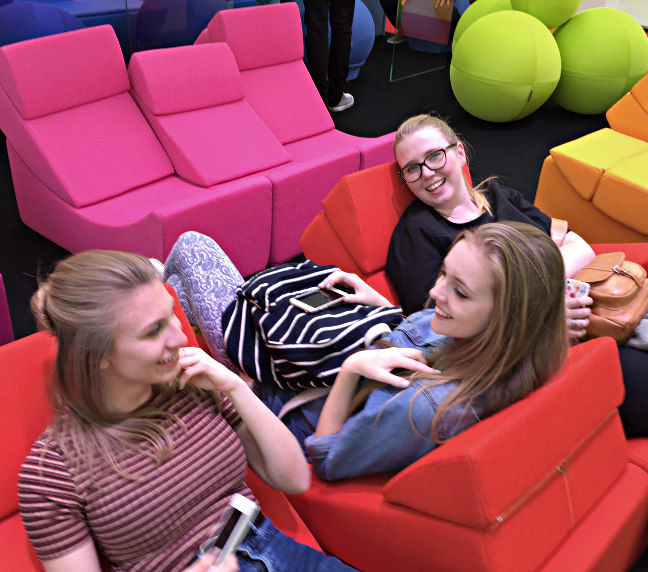 Fruity girls frolic on furniture from Lina Moon
You can even unfold just the pillow and the whole thing becomes a somewhat abbreviated bed. But as you can see from the photo, it really works. Buy in a range of colours from linafurniture.com.
Float
Three's a crowd, part two: a different approach to troilism from Irish company Thomas Montgomery (thomasmontgomery.ie). These £800 chairs work just fine individually, despite their rather extravagant back.
But they really come into their own when you turn them around, because then you get a furniture ensemble that's perfectly designed for a threesome to chat in, each having their own elbow-resting space. Proximity without contact – perfect for today's harassment-conscious working environment.
Freehand Designer
Find it difficult to draw perfectly straight lines? I mean, without a CAD program? On, you know, paper? Course you do. But for 23 years inventor Graham Hiew has been quietly providing the solution. It consists of a sheet of polypropylene whose surface is covered with an array of tiny nodules, with just half a millimetre between the rows.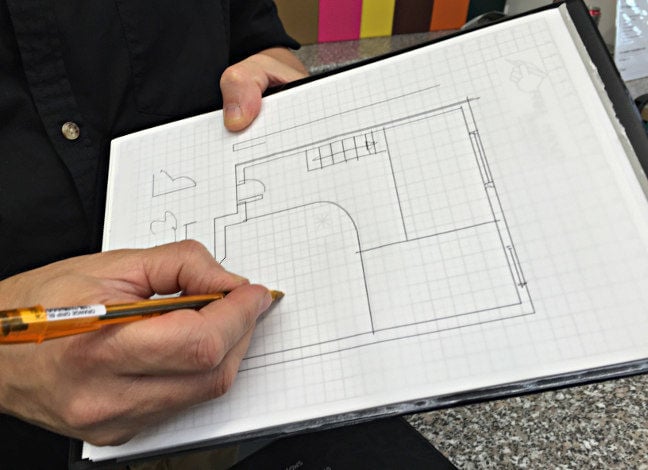 Freehand Designer: Straight lines drawn freehand? No problem
This sits beneath the top sheet in your pad of ordinary paper. Hold the pen upright and they channel the tip so that you draw perfectly straight vertical and horizontal lines. Need a line at an angle? Use the supplied angled matrix sheet to draw any angle you like, perfectly straight.
It's low tech, it doesn't need recharging, and it works a treat. £42 including postage, circle template and adhesive ribbon dispenser from straightlines.com.
Gold bugs
The only new item from Mambo Unlimited this year is these gold wall-mounted bugs, each about eight inches long. How much do they cost? "I don't know. About £30 or something. Here's our information."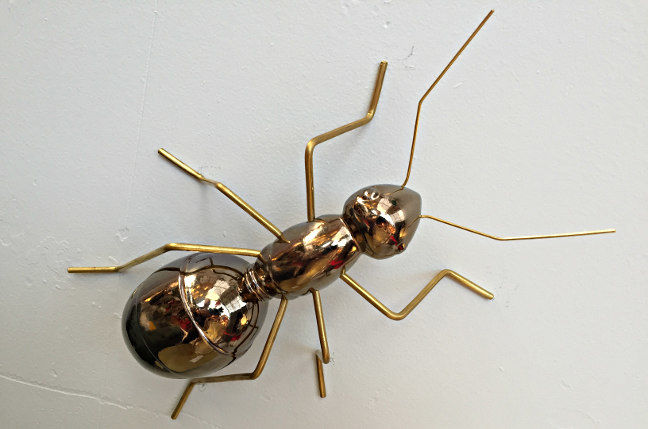 Gold bug: A giant gold ant, for your, er, wall's pleasure?
And she handed me their press release, on a CD. I mean, a CD. If anyone out there still has a CD player hooked up to their computer let me know and I'll see if it lists their web address. ®
100 Per Cent Design is ongoing this week for trade visitors and students and is open to the public on Saturday 26th September 2015 at Olympia London.