Intel is integrating an LSI PCIe flash card and RAID adapter into its new RAID SSD Cache Controllers intended for caching data from direct-attached disks on servers.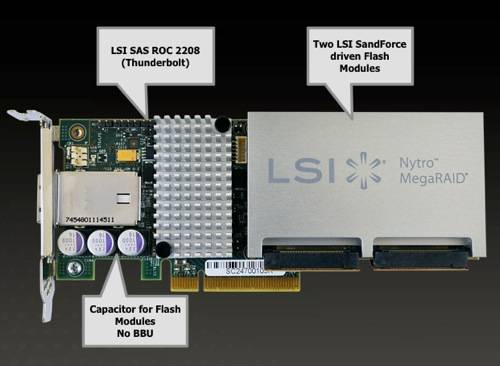 LSI Nytro MegaRAID card
LSI offers its Nytro PCIe flash technology in its WarpDrive flash cards and MegaRAID adapters, in effect adding cache-based app acceleration to protect against local disk failures.
Intel is taking the Nytro MegaRAID product and offering its RCS25ZB040 and RCS25ZB040LX RAID SSD Cache Controllers powered by LSI Nytro MegaRAID technology. They will have 256GB and 1TB of flash cache capacity respectively
LSI says the Nytro MegaRAID card accelerates Hadoop apps, with a 50GB Hadoop TeraSort taking 73 minutes with the card and 101 without it. LSI also points to VDI as another potential application, with 100 VDIs booted in 165 seconds instead of 450, and the VDI population a server can support increased.
Nytro is doing well for LSI. As well as bagging Intel, it brags that its PCIe flash card technology has been adopted by Cisco with NetApp Flash Accel for its UCS servers. IBM is also selling it in high IOPS modular storage adapters. Oracle uses it in its Exadata X3 servers, as well as its Sun x86 and SPARC servers which use it in their F40 PCIe cards. ®
Similar topics