Bletchley Park remembers 'forgotten genius' Gordon Welchman
Head of Hut Six 'a disastrous example to others' – GCHQ
---
The Ultra Secret
Almost nothing was known about Bletchley Park's role in the war until the 1974 publication of The Ultra Secret, a book by former RAF officer Frederick Winterbotham, and it was only after this that Welchman began to feel comfortable about coming forward with his story.
Most of those who had worked at Bletchley were unaware of the work their colleagues in other huts had done, including spouses who had initially met there, and had been forbidden from talking to each other about it under the Official Secrets Act.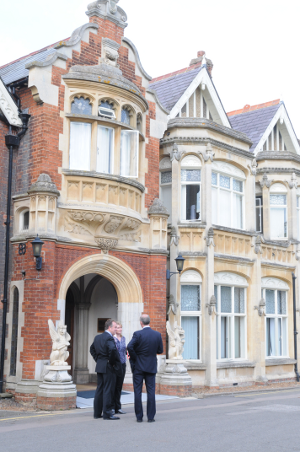 Bletchley Park Manor House
It was only following publication of the Winterbotham book, more than 30 years after the work had taken place, that many began to feel less restricted in talking about their personal war efforts.
Welchman's granddaughter Jennifer Welchman told The Register that her grandfather believed that Bletchley was an important story which deserved to be told.
His first wife's military family believed he had avoided military service, which contributed to the breakup of that marriage. Jennifer explained that he was "touched and hurt when the younger men at Bletchley were accused by friends and family of shirking military service."
She added: "My grandfather would be thrilled to see these people remembered".
"In some ways he did believe he managed to escape military service," Jennifer said. "He acknowledged that Bletchley Park was a very comfortable place to live, compared with what other men were experiencing."
Despite GCHQ's admonishments following the publication of his book, the Bletchley Park release states that Welchman's "wartime colleagues could not have thought of the codebreaker more differently [than that of the 'disastrous example' tagged on him by GCHQ], describing him in the late 1940s as inspiring, inventive and by one as 'one of the most original minds I have ever known'."
Similar topics
Broader topics