Apple is using two slightly different A9 processors from two suppliers – TSMC and Samsung – in its new iPhone 6S.
This is according to analyst house Chipworks, which tore apart the electronics in the new smartphones: the silicon gazers found that the system-on-chips in the iPhone 6S are manufactured by either TSMC or Samsung depending on which device you buy.
"It was a surprise to find two different application processors in two otherwise identical phones," wrote Chipworks senior technology fellow Andy Wei.
Chipworks said the 6S handsets, made with otherwise identical hardware components, will have chips from one of the two manufacturers, and that the FinFET A9s also have different die sizes. The Samsung A9 chip is printed on a 96-square-millimetre die using a 14nm process, while the chip made by TSMC uses a 104.5-square millimetre die and a 16nm process.
The A9 is a 64-bit ARMv8-compatible processor; in the 6S smartie, it has 2GB of RAM and accesses flash storage over a PCIe bus.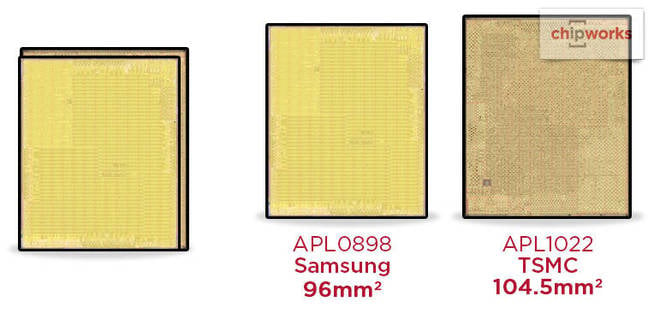 The two A9 chips. Image via Chipworks
"From a benchmarking point of view, the smaller die size shows a leadership in technology scaling for Samsung," noted Wei.
"On the other hand, for Apple to go through all the trouble of dual-sourcing a custom-designed part and launching on day one with both parts, suggests major sourcing problems."
If Apple is having sourcing problems, they haven't shown up on opening weekend. The Cupertino giant says it shifted more than 13 million handsets in just the first three days of availability, marking the largest opening weekend ever for a new iPhone model.
Apple's online store also appears to have ample stock following the opening weekend, with new orders being shipped in 3-5 business days.
It is, however, not the first time someone has reported possible manufacturing issues with the new iPhone. Less than two weeks before the release, word leaked that one of Apple's manufacturing partners was having problems assembling the 5.5-inch touchscreen displays for the iPhone 6S Plus.
Apple currently reports a 2-3 week wait on new orders for the 6S Plus. ®
Similar topics