This article is more than 1 year old
The pachyderm punch: El Reg takes just-over-a-ton Elephone P8000 to tusk
Ideal for trunk calls, and so much else
Review Every time The Register reviews a high-end, large-screen smartphone we get a comment or two about how for a quarter of the price you can get something similar from a no-name Chinese manufacturer.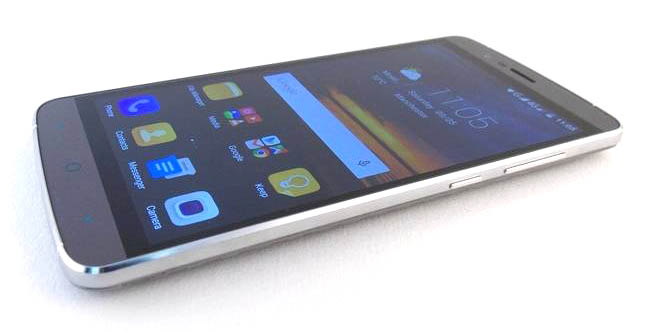 No-name, low price, big screen: Elephone's P8000 5.5-incher
No doubt we'll see the same when we review the new Samsung Galaxy Note 5, S6 Edge+, or Motorola Moto X Play. In anticipation of that, I've got my hands on just such a one-quarter price Middle Kingdom alternative from wholesalers GearBest: the just-over-a-ton Elephone P8000.
On paper the P8000 offers a lot for the money. The screen boasts a 5.5-inch diagonal and a resolution of 1920 x 1080, there's an octa-core processor, 3GB of RAM, 16GB of storage, a 4,165mAh battery and 13 and 5MP cameras all bonded together with a steel frame.

Steel frame adds solidity but weight too. P8000 is many things but light isn't one of them. Controls well placed though
Of course, the problem with budget devices bought sight unseen from far distant shores is that while the components may technically match their description, they may still be rather substandard iterations.
From the outside, the P8000 is a pretty nice looking device. Granted the design is wholly and forgettably generic but the build quality needs no excuses made for it. The brushed metal frame gives the P8000 a smart look and solid feel and though you can feel a slight lip where the screen butts up to the frame, there's no actual gap for crud to get into.
The plastic back which unclips to reveal two hot-swappable 4G-capable micro SIM slots and one microSD card slot (good for cards up to 64GB) is a bit thin and has an ugly cut out in it for the audio jack but it fixes firmly in place and has a not unpleasant faux carbon fibre finish.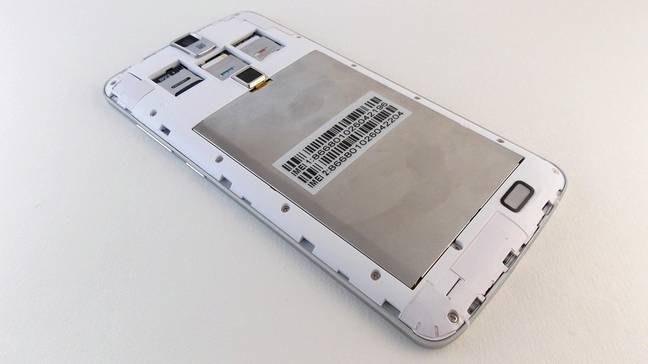 Unclip the back and you'll find two 4G microSIM slots and a 64GB microSD card slot. Battery is big – capacity and physical size – but fixed
That audio jack sits at the top of the P8000, the micro USB port at the bottom. Below the display are three capacitive buttons. The central, illuminated, circular one works both as a notification light as well as a home and recent apps button. The left and right buttons function as menu and back keys. All pretty typical of Chinese 'droids.
Thanks to that large battery the Elephone P8000 isn't what you'd call dainty. At 205g it's a fair old weight (the new Galaxy Note 5 weighs 171g by comparison, the iPhone 6 Plus 172g) and at 155.2 x 76.6 x 9.2mm it's a bit of a handful. The rather excessive amount of bezel is also partly at fault here. There's a reason Elephone's press shots show a black wallpaper. It makes the black screen surround invisible.
The power and volume controls have been thoughtfully placed on the upper right hand side though and are easily accessible no matter which hand you hold the P8000 in.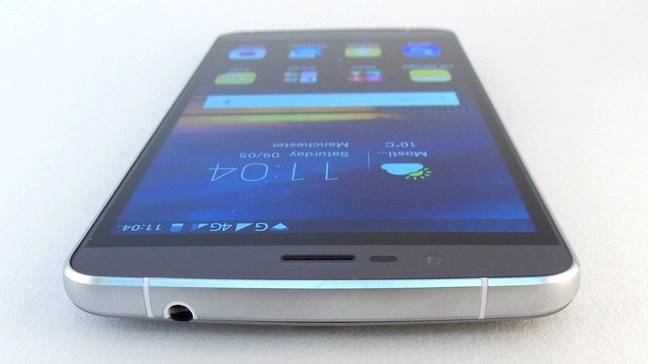 Plastic highlights embedded in frame is reminiscent of Apple and Samsung. Note the black border around the display
Turning to the innards. MediaTek SoCs are generally regarded as cheap but rather wanting alternatives to their Qualcomm equivalents, but I think that's a little unfair. Consider Qualcomm's current offerings. The budget Snapdragon 410 is reheated leftovers, the mid-price 615 has a flaccid graphics processor while the flagship 810 can get hotter than my shorts when I'm in the tropics.