When you think AMD, you might think: "Oh yeah, those peeps doing the graphics chips in the Nintendo XboxStation 4." Or maybe: "Err, those peeps, the ones keeping the M word away from Intel and Nvidia." Or perhaps: "Um, the ones El Reg keeps telling us to pray for?"
Right now, AMD would like you to think of them as those peeps also doing the graphics in airport terminal signs.
The chip-design biz will today announce new discrete graphics chipsets for embedded systems that need a little extra kick in the video-display department.
The silicon is aimed at providing on-screen graphics for arcades, electronic signs, sales terminals, medical and industrial equipment, surveillance camera systems, financial and education terminals, and so on. These aren't for slotting into PCs or laptops – they're for engineers building kit that's not supposed to look like a computer but certainly acts like one.
AMD has been touting silicon for this sort of hardware for a while, so here's three more Embedded Radeon families:
The E8870 MXM/PCIe series: Delivers 1.5TFLOPS in single precision, has 12 compute units, drives up to six displays, has 4GB of GPU memory, and consumes up to 75W. This is aimed at gambling machines, digital signs, and some aerospace systems.
The E8950 MXM: Delivers 3TFLOPS in single precision, has 32 compute units, can do 4K video encode and decode, has 8GB of GPU memory, and consumes up to 95W. This is aimed at aerospace and medical systems.
The E6465 MXM/PCIe/MCM series: Delivers 192GFLOPS in single precision, has two compute units, drives up to four displays, has 2GB of GPU memory, and consumes up to 20W. This is aimed at thin clients, industrial control systems, electronic signs and embedded gaming. This is compatible with the previous generation, so can be a drop-in replacement for hardware engineers, we're told.
The chipsets come in either MXM (mobile PCI Express modules that are 82mm x 105mm, or 82mm x 70mm), MCM (multi-chip modules of GPUs with integrated RAM), or normal PCIe (full and half height) forms.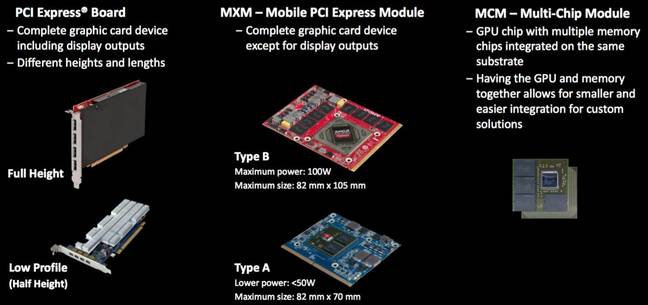 Mazen Salloum, a senior product manager in the AMD Embedded group, told The Register the E8870 is available from today, and the E8950 will be available from next month. For pricing, you'll have to get in touch with AMD. ®