Hands on with Google's Nexus 5X, 6P Android Marshmallow mobes
New kit from web giant shown off in San Francisco
Pics and video Google has updated its Nexus smartphone range with two new handsets powered by the latest build of Android, codenamed Marshmallow.
"Nexus is for Android because we've designed it," Google's newish CEO Sundar Pichai told the press at Tuesday's launch in San Francisco, meaning that the new phones have been designed to squeeze the most out of Android 6.0 aka Marshmallow. Hopefully for Google that will have customers asking it for s'more (sorry).
The Nexus 5X
The Chocolate Factory stuck with LG as its hardware maker for the Nexus 5X, which has a polycarbonate frame and is about a centimeter taller than the Nexus 5; it's also a little wider, and a millimetre thinner at 147 x 72.6 x 7.9mm. The 5X is six grams heavier than the 5.
The most noticeable change from the older model is the screen size – 5.2 inches rather than 4.95, and the bezels have been shrunk, to mean the 1920 x 1080 LCD screen now takes up 74 per cent of the viewing area. During Tuesday's hands-on sessions the screen looked superb, bright and crisp.
Inside the phone is running a six-core 1.8GHz 64-bit ARMv8 Snapdragon 808 processor with an Adreno 418 GPU, and 2GB of RAM. A phone with 16GB of storage costs $379, and a 32GB build will go for $429. The handsets are available from today for preorder at the Google Store for US, UK, Irish, and Japanese buyers, with more markets opening up in a few weeks.
For connectivity, the 5X has twin Wi-Fi aerials and supports 802.11a/b/g/n/ac, has an LTE cat 6 cellular connection, Bluetooth 4.2 and NFC (near field communication) for applications like Android Pay. GPS support is, naturally, included, but so too is support for Russia's incomplete GLONASS positioning system. A digital compass is also built in if you get really lost.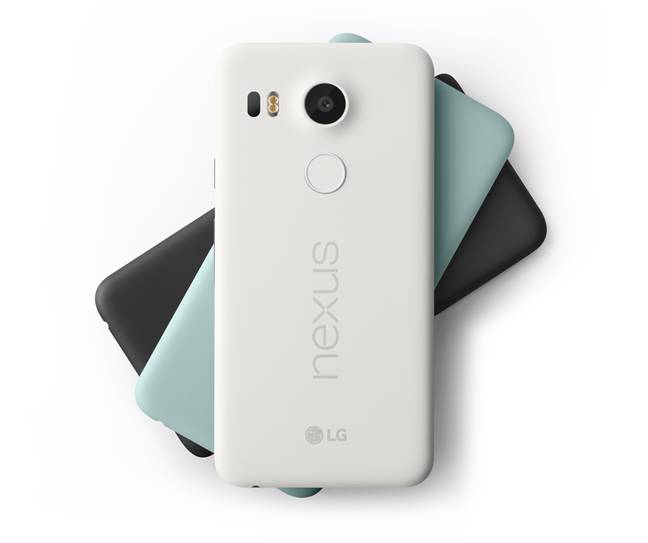 The cameras have also been improved. The forward-facing camera is now five megapixels and the rearward one running 12.3 megapixels, up from eight. But Google says its secret sauce is the 1.55µm pixel width in the sensor, which is pretty big and makes the camera work much better in low light and for indoor work.
Battery life is something many Nexus 5 users bitch about, and the new phone has a larger 2,700mAh power pack that can be fast-charged using the new USB Type C connector, now standard on all Nexus devices. Google claims this will give nearly four hours use after just 10 minutes of charging.
Also included as standard in both new Nexus devices is a fingerprint sensor build into the back of the casing. Google said the sensor gives a very low false positive rate and is also continually updating its fingerprint-processing algorithms to bring this down further.
Both devices are configured so that the fingerprint reader will unlock the device as soon as it's touched – which has advantages and disadvantages. Sensor packages in both phones will also detect when they are picked up and wake up the phone accordingly.
The Nexus 6P – not quite a phablet
The Nexus 5X's bigger brother is the new 6P model, designed as more of a media playback device or a phone for those with larger hands.
At 159.3 x 77.8 x 7.3mm, it's slimmer and thinner than the original Nexus 6 model, and the builders at Huawei chose to use aluminum for the first time in a Nexus device. The shell comes in three flavors – plain aluminum, "frost white," or graphite.
Generally, 6 inches is the minimum size for a phablet, and the 6P comes in under that with a 5.7-inch 2560 x 1440 AMOLED (active matrix OLED) screen. Dual front-facing stereo speakers are built in for playback, and there are three microphones (two in front and one in back) for voice control and noise cancellation.
The internals are a bit more powerful than the 5X – a 2.0GHz eight-core 64-bit ARMv8 Snapdragon 810 v2.1 processor bolstered by an Adreno 430 GPU and 3GB of RAM. When it comes to storage, the 6P has Nexus' first build with 128GB of storage, albeit for a whopping $649, and there are 32GB and 64GB versions for $499 and $549 respectively.
The forward-facing camera is now a whopping eight megapixels, which Google promised would give "the world's best selfies," and it also has the 12.3 megapixel rear camera that's found in the 5X, but augments it with a dual flash unit and an IR laser for quick focusing.
All this takes up a fair amount of power, and the handset's 3,450 mAh battery should give a day and a half's usage, according to the display staff. Again, the USB C connection has a fast-charging capability which, in this case, gives 7 hours of life after a 10-minute charge.
The 6P's internal improvements are pretty much par for the sector, but the phone feels a lot less bulky in the hand than its predecessor, more so than you'd expect from the slightly reduced dimensions.
Both new handsets come with a one-year warranty, but for an extra $69 (for the 5X) or $89 (for the 6P), an additional year can be purchased. A 90-day trial of Google Play music streaming is also included, and those who preorder now in the US will also get a $50 voucher for purchases in Google's shopfront.
Both phones are also compatible with Google's pay-as-you-use Project Fi telecommunications service. Only Nexus 6 users have been able to get onto Project Fi thus far, and Google's keen to ramp up the offering.