Blood in the boardroom as Imation ejects from tape media business
Bloody exec cull as Nexsan array business faces dramatic restructuring
Clinton Group execs in charge at struggling Imation have started restructuring the business to make it a tastier dish, discarding its tape media business, selling off property assets and starting a Nexsan array business restructuring exercise.
Activist investors at the Clinton Group deposed Imation's existing board chairman and its CEO earlier this year. The company is going to wind down the non-European operations of its legacy tape media business and Consumer Storage and Accessories segment. It will also terminate a long-term licence agreement with TDK.
Cash from the wind-down will be invested in its Tiered Storage and Security Solutions (TSS) segment, meaning Nexsan arrays and Ironkey security.
In an 8K SEC filing Imation said:
On September 27 2015, the Company adopted a restructuring plan (the "Restructuring Plan") pursuant to which the Company will (i) terminate all sales and operations of its worldwide tape ("Storage Media") business (other than in certain foreign jurisdictions as described below), (ii) terminate all sales and operations of its worldwide Consumer Storage and Accessories ("CSA") business (other than in certain foreign jurisdictions as described below and in North America), and (iii) further reduce and rationalise its corporate overhead... The Company will continue its Nexsan and IronKey businesses.
Imation is also going to sell its company headquarters – located in Oakdale, Minnesota – and its Santiago, Chile and London, Canada properties.
With regards to TDK: "TDK will relinquish substantially all of its investor rights (including its board nomination rights), Imation's licence rights to the TDK Life on Record trademark will terminate, and TDK will transfer to Imation approximately 6.7 million shares of Imation common stock that TDK currently owns. The transaction is expected to close in the fourth quarter of 2015."
Incoming company president Barry Kasoff, a Clinton nominee, said in a canned quote: "These wind-downs are critical in our ongoing effort to create a leaner, more focused Imation. Our TSS segment is the foundation for the Company's profitable growth over the long term."
Joseph De Perio, Imation's non-exec board chairman, said: "Exiting certain legacy businesses will improve our near-term financial performance and position the company for profitable growth."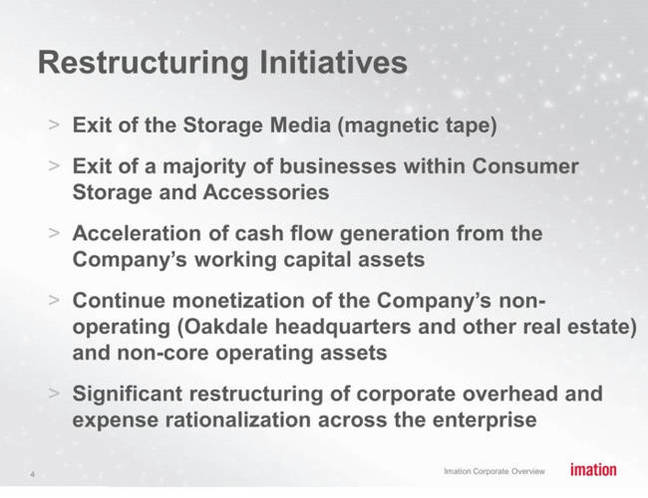 Imation restructuring slide from 8K SEC filing
We're told:
The Company anticipates pre-tax restructuring and other charges ranging from $140 million to $160 million, including a non-cash charge of $110 million to $120 million, primarily related to the goodwill and intangible write-off. The majority of these restructuring charges will be incurred in fiscal year 2015 and are primarily for severance as well as the write-down of certain intangible assets, goodwill and fixed assets. The wind downs are expected to be completed by first quarter of fiscal 2016. The Company expects that once the wind-downs are complete, the streamlined business will operate at break-even on a run-rate basis in 2016.
Imation wants to be a pure-play data-storage and security company. It exited the RDX removable disk business in August. Current Board member and Clinton nominee Robert Fernander has been appointed interim group president, tiered storage and security solutions and will oversee the operations of the TSS business segment. He gets paid $35,000 a week.
Ian Williams is listed on Imation's leadership web page as VP and group president of the TSS business, being also known as Nexsan CEO. He's gone and we're told: "Mr Williams will provide general consulting services as requested by the Company until November 27 2015 and will receive consulting fees of $157.00 per hour, plus reasonable expenses. Mr Williams will receive $769,440.66 after entering into an effective general release of all claims against the Company."
With Williams going there will be a dramatic restructuring of the Nexsan business: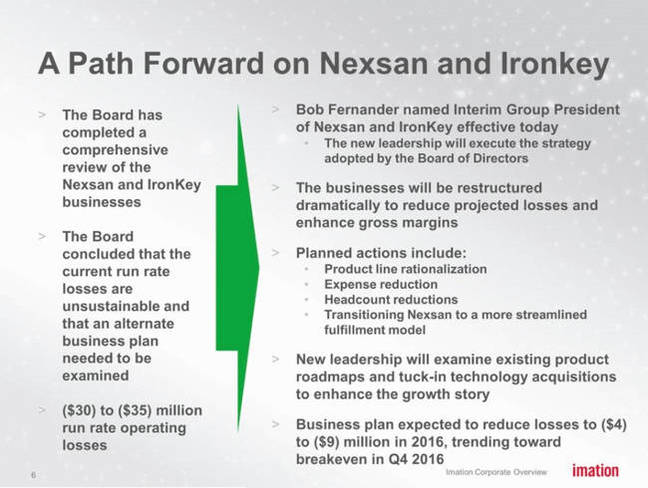 Nexsan restructuring slide
Other departing execs are:
CFO and VP Scott Robinson
SVP and CSA group president Gregory Bosler
VP, general counsel and secretary John Breedlove
Mark Lewis is still listed as Imation's CEO, but our understanding is that he is positioned for an exit.
Imation's future as an independent business us still in doubt, with it saying: "Imation's Board and management team continue to work closely with its advisors to explore all potential strategic alternatives designed to maximise shareholder value."
The tape biz exit, property sales and CSA reduction, together with the Nexsan streamlining, can be seen as a deck-clearing exercise before a sale. We shall see. ®