iPhone 6s and 6s Plus: Harder, faster and they'll give you a buzz
But despite the hype, Cupertino's latest efforts don't entirely satisfy
Review The latest iThing is the tock in Apple's two-year hardware cycle, last year's iPhone 6 and its oversized "Plus" companion having been the tick.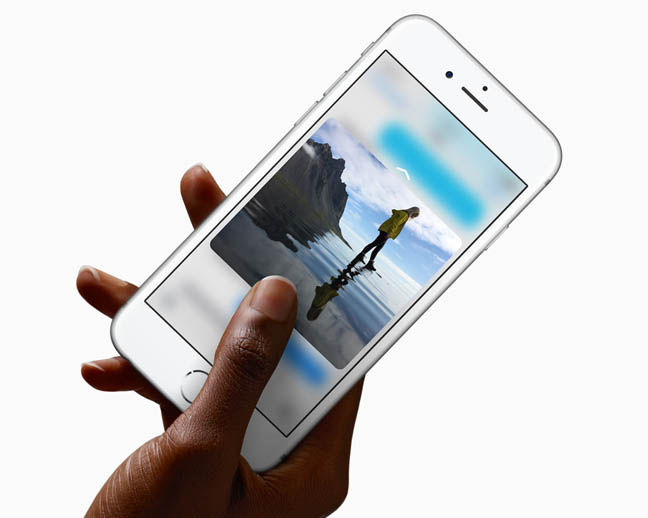 Unspoilt by progress, Apple's iPhone 6s
Again, the phone with an "i" on the front gets an "s" on the end, lower-cased in a sub-editor-baiting pseudo-plural. And, as expected, there are steps forward, not leaps.
Outwardly, this is still an iPhone 6. The first thing you notice, picking it up, is the rounded edges of the glass, most visible in the Space Grey, with its gunmetal back and jet-black front. In the white, you have a new choice of Rose Gold – a perfect sugar pink of surprisingly unisex appeal – alongside Silver and Gold.
As before, plastic stripes dissect the aluminium unibody top and bottom, letting the radio signals out and in. Toned to blend with the light and dark greys, these contrast with the golds like sportswear piping. It's all very modern and engineered, of course, with such precision that even your fingertips won't find the joins.
But you might think the designers of the two sides had been working at opposite ends of 1 Infinite Loop.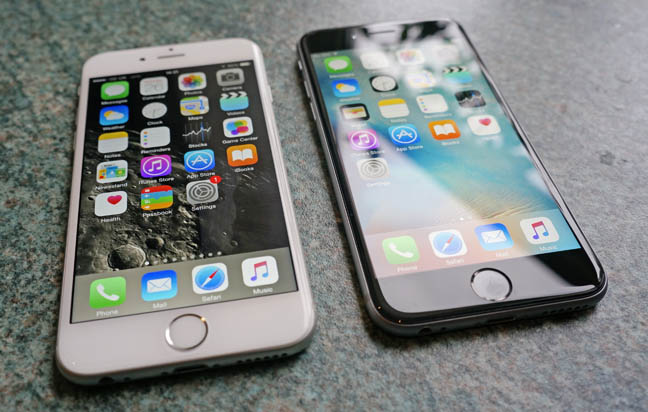 Spot the difference: Apple iPhone 6 (left) and 6s (right)
Tradition dictates that each year's iPhone must be slimmer than the last. There had to come a point where that stopped. Lacking the will to call it, Apple took the 6 just a fraction too far, as bloggers gleefully illustrated, bending it in their bare hands under YouTube's disapproving gaze. Mine hasn't bent in a year, and I'm clumsy enough to dent a pebble. An actual pebble. But with nadir officially declared, the parabola of thin can swing gently back upward.
Internal adjustments and a tougher grade of aluminium ensure the 6s bends less and springs back better, according to the internet. And the addition of 3D Touch makes the screen slightly thicker, adding 0.2mm to the total depth of each model. Can you tell? Of course not. Side by side, even on a flat surface with a snooker player's eye, you can't spot which is which.

The thick of it: Apple iPhone 6 (left) and 6s (right)
The 2015 collection is a little heftier, too, up from 129g for last year's 4.7-inch iPhone to 143g, and up to 192g from 172g for the 5.5-inch. It's all on the front: the 6s' display assembly, as extracted by iFixit, weighs a third more than its predecessor. Whatever's in there, it costs money.
An official screen replacement lists at £106.44, or £126.44 for the Plus, a rise in each case of £20. A creditable repairability score of 7/10 means non-Apple attention from your guy down the covered market should be no pricier than before.
Nothing about the Retina display needed fixing, with its high contrast, full sRGB gamut and wide viewing angles. The 6s Plus retains its odd resolution kludge, rendering a notional 1242x2208 user interface on a 1920x1080-pixel panel, but at 401 pixels per inch (compared with the 6s' 326ppi) the downsampling is all but undetectable, even if it grates to know a one-pixel line is 2.60869565 pixels wide.
At full brightness, I found my 6s a fraction dimmer-looking and a touch yellower than my 6. Don't pay any attention to this – Apple often uses multiple component suppliers, and variations can be found between units as well as generations.