I turned myself to face me
Because the taptic engine sits at the bottom of the iPhone, that's where the buzz comes from. Press an icon at the top of the screen and the response is noticeably weaker. I found the disparity less striking on the Plus, despite the greater distances: perhaps it has a bigger buzzer?
It's still a design flaw. The buzz means the same wherever you're pressing. It should feel the same. It doesn't. And it feels nothing like pressing should feel.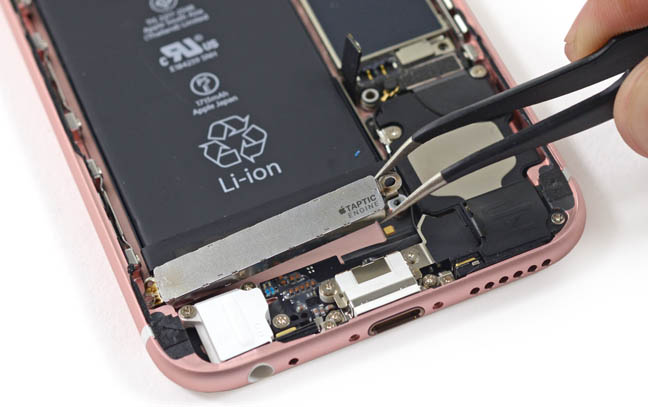 3D Touch force feedback comes from the "taptic engine" at the bottom left of the iPhone, but it's still not much like actually feeling something happen under your finger. Image courtesy of iFixit.com
Live Photos is the only other big brand new feature. It's represented on the Camera screen by a scale-marked circle. With this turned on (yellow), every time you tap the shutter button, a legend announces "LIVE" for three seconds. During this time, as well as your photo, the iPhone is capturing 15 frames per second of video. Tap the picture later and it comes alive, Harry Potter-style.
Apple thinks this is revolutionary. It's certainly cute. Within iOS 9 (and the upcoming OS X 10.11 El Capitan), the still and moving images stay packaged: email them to someone on another OS, or stick them on Dropbox or OneDrive, and they're separated into a .jpg and a .mov.
Total file size is about 2.5x the still image alone. If you hold the camera steady while the background stays still and the subject moves, the low frame rate isn't obvious and the result is reminiscent of a cinemagraph. Move the camera, though, or shoot a scene full of action, and things get extremely choppy.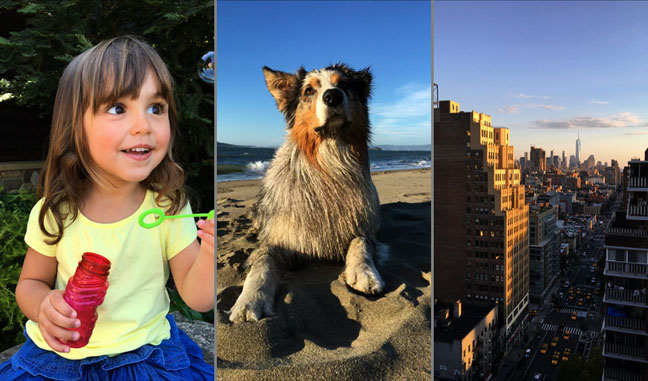 As Apple's demos illustrate, cute kids, head-cocking dogs and static city shots with slow-moving traffic all look cool at 15 frames per second. Anything busier than that – or you moving the camera while the subject stays still – and it can look pretty awful
There are general improvements to the camera, too. Apple has always avoided increasing resolution unless it could deliver a genuine quality gain, and the long-awaited move from eight to 12 megapixels – while many lesser phones offer 16 or 21 – comes with "deep trench isolation" to prevent leakage between pixels.
The result is really crisp pictures with no compromise on Apple's excellent exposure and colour balance, and just a little bit more microcontrast than ever.
The front camera jumps from 1.2 to five megapixels, upgrading it to a proper camera in its own right, and together with iOS 9's ability to use the screen as a flash, this takes selfies to a new quality level. It's surely only a matter of time before they put the main camera on this side, with just a sensor on the back to detect the bit of the outside world you're pointing at and bring up someone else's Instagram of it.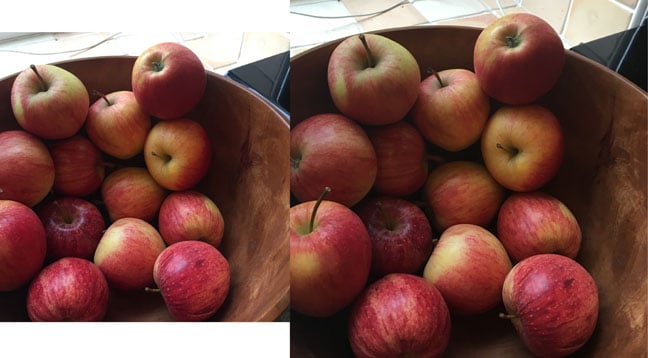 Although noise still becomes visible in low light, the 12-megapixel camera (right) genuinely adds detail without sacrificing quality when compared with the iPhone 6 camera (left). Click for a larger image
Boosting the video resolution to 4K, quadrupling Full HD, feels like more of a gimmick. Even pro filmmakers are still arguing about whether it's really necessary, and serious 4K editing demands a high-end Mac. Yet the 6s makes a pretty good argument, as you can chop up your footage and knock something watchable out on the iOS version of iMovie.
Switch up (you can pick resolution and frame rate from Settings) and you get a similar amount of noise per pixel in bright to medium light, but the finer grain gives footage a more detailed and transparent feel. Rolling shutter can be a bit more noticeable, and in low light 4K is if anything a little blotchier than 1080p as the sensor struggles for accuracy.