Pics Google has redesigned its $35 Chromecast TV dongle, and come up with the Chromecast Audio – a new gizmo that streams music over Wi-Fi to speakers.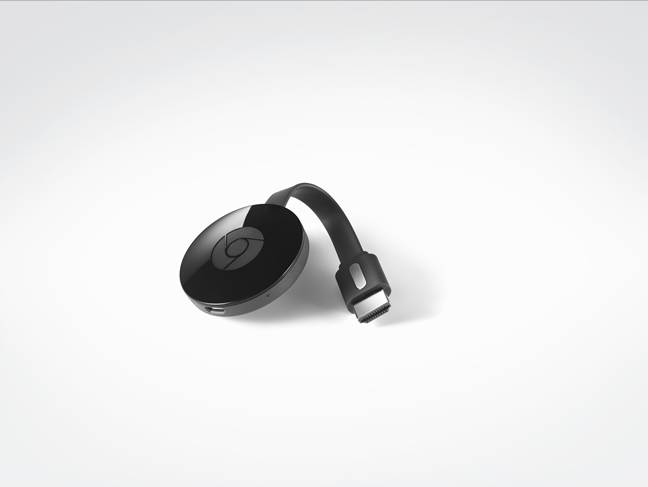 Small dangle dongle for streaming
Two years ago, Google launched the Chromecast, which looks like a fat USB stick, plugs directly into a TV's HDMI socket, and streams video over the air and into the telly. Google has since sold 20 million of the things.
The updated Chromecast is a dangling dongle that does the same thing, but with faster Wi-Fi networking: it is a circular unit available in three colors (black, "coral", and "lemonade"), it plugs in to the TV's HDMI socket, and hangs down behind the set. Google said this will leave other ports on the telly more accessible for use, but the end result looks rather odd.
Inside the body of the device are three Wi-Fi antennas that are used to get the best 802.11ac (2.4GHz or 5GHz) signal. Power comes from a USB connection, oddly a USB 2 port given that the rest of Google's Nexus and Pixel line announced at the same time use USB Type-C connectors.
Once installed, the device can be used to stream media wirelessly from a phone, tablet, or computer (Windows 7+ PC, OS X 10.7+ Mac, Android 4.1+ device, or – of course – a Chromebook, although you can't set one up with a Mac nor a Chromebook). Google announced it has signed up Showtime as a new media partner, with Sling TV coming in a few weeks, and games from the NBA and NFL in a few months.
Content can also come from Cast-enabled applications; smartphones can be used as a games controller while the gameplay is displayed on the TV screen.
Multiplayer games are also a possibility with the new device. Google promised a version of Monopoly that would allow four people with suitable smartphones to play together until the evening breaks down in the arguing and recrimination that the game usually inspires.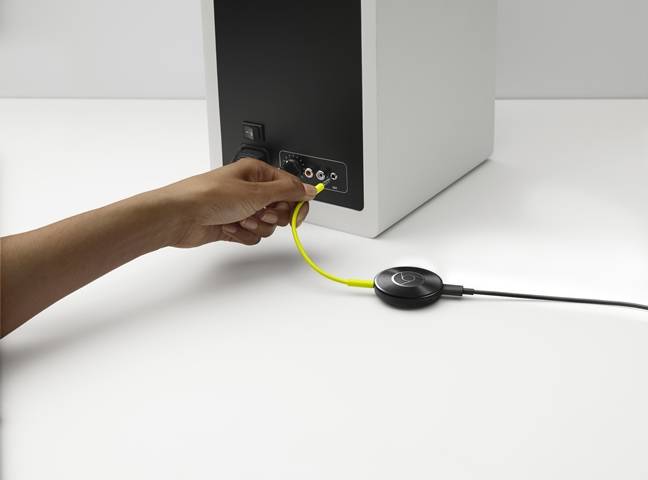 Chromecast Audio makes older speakers a bit more modern
Google also showed off a new Chromecast Audio device. This has a similar form factor, but is designed to plug into audio speakers via an RCA, 3.5mm, or optical connectors, and allows music to be streamed directly to the speakers.
Given the cost and uncertain quality of BlueTooth speakers, the Wi-Fi-based Chromecast Audio device looks like a great way to try out wireless streaming with your existing wired audio kit. We'll be testing it out to see.
Chromecast Audio costs $35 and both devices are available now from the Google Store in 17 countries, with more to come. ®