Exclusive The much-anticipated Roku 4 will come with 4K ultra high-definition resolution, a separate games controller, and a faster quad-core ARM processor.
That's according to specifications that were briefly published in the online Roku developers guide just before the device's imminent launch. The information was quickly taken down. Pictures of the new box have also found their way onto the internet.
The fourth generation of the media-streaming box will match, and in some areas, surpass the new Apple TV, launched earlier this month, putting Roku ahead of its rivals once again.
The headline is the fact that the Roku 4 will offer 4K streaming (or 2160p), as has been predicted for some time. That puts it ahead of competitors that offer full HD or 1080p. Meanwhile, the user interface will be upgraded to 1080p resolution.
The box will also get a big power boost to handle all that extra processing: 1.5GB in RAM, up from just 512MB in the Roku 3, and a quad-core ARM processor, up from a dual-core.
That means the box can handle media streamed at 40Mbps. Roku is recommending a minimum internet connection speed of 1.5Mbps, but if you want to get 4K, you're going to need a minimum of a 25Mbps connection.
In addition, the Roku 4 will come with a digital audio output and, critically, with a games controller. The controller will run over Bluetooth and support motion control – bringing it in line with Apple's latest product. The Roku's controller will also feature an "instant replay" feature.
Here are some of the Roku 4's specifications:
roDeviceInfo.GetModel(): 4400X
CPU: ARM quad core
Accelerated Graphics API: OpenGL ES 2.0
RAM: 1.5GB
HDMI 720p Video Out: Yes
HDMI 1080p Video Out: Yes
HDMI 2160p Video Out: Yes
S/PDIF Port: Yes
Wi-Fi (b/g/n): Yes
Wi-Fi (n 2x2): Yes
Ethernet Port: Yes
USB 2.0: Yes
Supports Games < 750K: Yes
Supports Games > 750K: Yes
microSD Slot: Yes
Wi-Fi Direct Game Remote: Yes
Voice Remote Search: Yes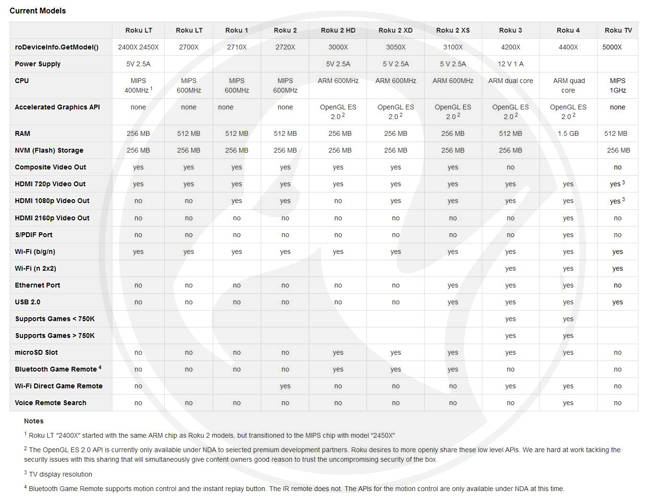 The Roku 4 specs were accidentally published ahead of launch
Games
The ability to play games is something that Apple and Amazon have decided is a key new feature for the next generation of streaming boxes. Up until now, streaming boxes have only been able to offer limited games.
The Roku has consistently stayed one step ahead of its rivals, although Apple's big push on the Apple TV does threaten its position.
Earlier this month Apple failed to announce what might have been a Roku killer – deals with cable companies that would enable people to "cut the cable." However it did introduce voice search with Siri and a sleeker touch controller.
Aside from its speed and better image quality, the Roku also has another big advantage over the AppleTV – it is more open, so you're not restricted to content that Apple decides you are allowed to watch, such as forcing you to purchase content through its iTunes setup, for example.
A spokeswoman for Roku declined to comment.
Big thanks to Reg reader Niall Hayden for noticing the spec update and sending us some screenshots. You can help, too: seen something? Say something. ®