Cloud security and storage supplier Barracuda recorded growing revenues in its latest quarter, but fell short of expectations and made a loss because of poor sales in Europe and large deal push-outs.
However, it announced it was buying a managed service provider software company to grow its market.
Revenues for the second fiscal 2016 quarter were $78.4m, a 14 per cent uplift from the $68.7m recorded a year ago. However, it was just $400K larger than the preceding quarter. Historically, the Q1 to Q2 jump has been larger.
In detail, appliance revenue grew to $22.3m, up from $20.7m a year ago. Recurring subscription revenue grew to $56.1m, more than the $48.0m in the year-ago quarter and representing 72 per cent of total revenue.
There was a loss of $2.2m, which compares poorly to the $700K profit reported last year. President and CEO BJ Jenkins said in a prepared quote: "The currency environment and longer sales cycles which we experienced in EMEA in Q2 impacted our gross billing performance this quarter... We do see some evidence that growth in the overall storage market has slowed and that customer requirements are evolving, and we are adjusting our approach accordingly."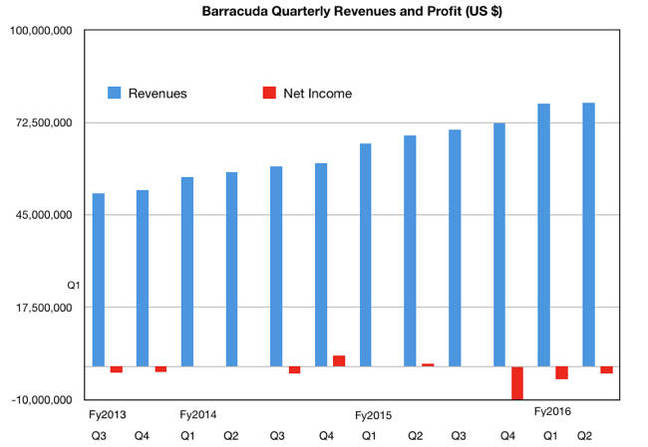 Barracuda second quarter fiscal 2016 revenues and net income
William Blair analyst Jason Ader told subscribers: "The primary culprit was weakness in Europe, tied to the macro environment and lengthening of large-deal closure rates that have hampered forecasting ability. As a result, the company reset guidance for the second half of the year to more prudent and conservative levels of 10-13 per cent constant-currency billings growth, a step that we believe investors had desired after last quarter's miss."
Jenkins said: "We now have more than 261,000 active subscribers and this quarter's dollar-based renewal rates were 95.1 per cent. In the second quarter, gross billings grew to $98.4m, up 4 per cent sequentially and up 14 per cent year-over-year in constant currency."
CFO David Faugno's canned quote mentioned Barracuda "delivered better-than-expected bottom-line results by executing on our business model".
The company is buying Intronis and its white-label ECHOplatform data protection offering, which is sold to managed service providers, with almost 2,000 signed up so far. Intronis is a private company, founded in 2003 and funded to the tune of $25.9m in four VC rounds; two $5m slugs of cash in 2007 followed by $12m and $3.9m in 2012: an odd-looking pattern of money-raising.
Barracuda is paying $65m for Intronis, which seems quite modest.
Another Jenkins prepared quote said: "We believe a larger opportunity exists to add Barracuda's award-winning security and data protection solutions to the Intronis platform to expand its offerings. This will allow Intronis' MSP partners to address the broader needs of their customers."
Great: Barracuda gets added channel bandwidth and cross-selling opportunities for its existing channel. Of the nearly 2,000 MSPs that partner with Intronis today, less than 10 per cent of them overlap with existing active Barracuda partners. That should enable Barracuda to shift more appliance and subscription-based offerings without putting up its costs.
Barracuda cites research saying the annual growth rate of the SMB managed services market will exceed 20 per cent over the next five years, meaning more Intronis sales should be possible too. It says its security and data-protection products, including the Office 365 offerings, can be adapted over time to take advantage of the current Intronis channel, as well as enable international expansion of the current Intronis offerings.
It says Intronis will operate initially as part of its MSP business unit, and Intronis products will continue to be marketed and sold under the Intronis brand through the existing distribution channels.
Ader said: "It is too early to tell how long the malaise in Europe will last." He thinks, and hopes, "it will take a few quarters for management to recalibrate the sales forecast process and improve sales execution to stabilise results... We do not believe the issues are structural, which should eventually lead growth rates to rebound from currently depressed levels."
Barracuda expects revenue for the full fiscal 2016 year to be between $320m and $323m, which compares to $277.4m for fy 2015, a 17-19 per cent increase - decent enough. ®
Similar topics