Fujitsu has moved on from its first generation Ceph-based ETERNUS CD10000, a hyperscale system, to the S2 version, and reduced its raw capacity from 56PB to 42PB in the process, while increasing the storage node options.
The basic idea of up to 224 scale-out nodes stays in place, but the storage node types have altered. The S1 CD10000 had three kinds of storage node with a 56PB capacity system limit:
Basic node, with 12.6TB capacity from 16 x 900GB 2.5in 10,000rpm SAS disk drives plus a PCIe flash card, and software running in two Intel Xeon processors and 128GB RAM.
Capacity node, with 60 x 3.5in 7,200rpm SATA disks and 14 x 900GB SAS drives to provide 252.6TB of raw capacity.
Performance node, with a mix of 2.5in 10,000rpm SAS disks and two PCIe SSDs to provide 34.2TB of raw storage.
These three node types have gone away to be replaced by five. The S2 system has a Flex Node, with each having 2 x 800GB PCIe flash cards, and a Density Node concept.
There are four Flex Node types, with 44TB in a 2U shelf, 92TB in a 4U shelf, 140TB in a 6U enclosure and 188TB in, you guessed it, an 8U rack shelf. This is raw capacity by the way, and the Flex Nodes all use 4TB disk drives.
A Density Node has 60TB (12 x 5TB drives) in a 1U shelf powered by an Atom CPU. Fujitsu claimed that this reduces total power consumption by 50 per cent with no reduction in performance. There is a local SSD cache option, too.
The CD10000's maximum raw system capacity is now listed as 42PB; 224 Flex Nodes with three extension shelves add up to 224 x 188 TB = 42PB.
A Fujitsu spokesperson said "the new node design allows a finer granularity in scaling the system, but it led also to a slight decrease when adding up capacity."
"However, the Ceph software has the capability to scale up to an Exabyte so we can go far beyond 42, 50, 100 or whatever petabytes. If a customer needs more than 42PB, we can offer this with a special release," he added.
Each node has 2 x 10GbitE ports for host access, and individual storage nodes to be added, exchanged, and upgraded without downtime. Fujitsu's datasheet claims in its intro paragraphs: "This makes the entire system – and its data – immortal."
Right, but it is more circumspect later, claiming a "three times extended lifecycle compared with conventional systems."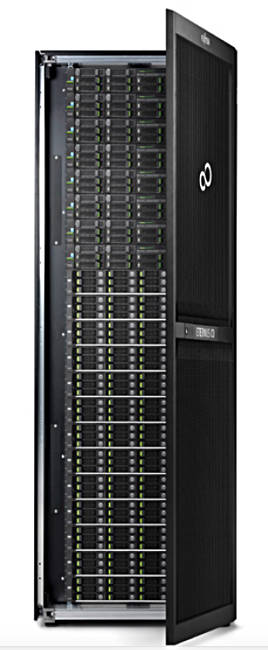 Fujitsu ETERNUS CD10000 S2
Fujitsu's global storage business veep, Bernhard Brandwitte, has a canned quote saying: "We can now store 10 times more data at the same data center space while reducing costs per terabyte by as much as a factor of ten compared to the previous generation."
Application interfaces include KVM, Swift, S3, CephFS on special release request, and OpenStack.
Fujitsu says it has optimized Ceph's erasure code so users can reduce the cost of data redundancy by up to two-thirds when compared with the first generation. This new code has been provided to the open stack community.
There are improved management and monitoring functions to reduce the admin workload, with automatic integration of new nodes and simpler software deployment.
Business continuity has been boosted with a spatially dispersed cluster across two sites linked via a sync replication through gateway nodes. This extra functionality does not reduce system performance, according to Fujitsu.
Lastly, Fujitsu has simplified CD10000 deployment with validated system configurations for OpenStack, Enterprise File Sync & Share, Online Archives/Content Depots, and Cloud Backup.
The CD10000 S2 is available in EMEIA and in the Americas. Other regions will follow later in 2015. ®
Sponsored: Ransomware has gone nuclear