Micron: Those dratted PCs, dragging down our revenues
And SSD market has become a bit of a 'bloodbath'
Declining PC sales took their toll on Micron's DRAM revenues, sending year-on-year growth into reverse for its fiscal 2015.
Full-year revenues were $16.2bn, one per cent down on fy2014's $16.4bn. Net income of $2.9bn was five per cent lower than the $3bn recorded in fy2014.
Revenues for the final quarter in fy 2015 of $3.6bn were lower by seven per cent than the $3.85bn in the third quarter and 15 per cent down on a year ago. Net income of $471m was 59 per cent less than the $1.2bn reported in the final quarter of fy2014.
CEO Mark Durkan laid the blame for the relatively poor results mostly in one place but said things should look up: "While fourth quarter results were impacted by continued weakness in the PC sector, we believe that memory industry fundamentals remain favourable over the long term."
Intel's Skylake CPU and Windows 10 should help drive up PC memory demand.
In the fourth quarter the revenue drop was primarily due to a seven per cent decline in DRAM average selling prices and relatively flat DRAM sales volume. Flash trade revenues for the fourth quarter also declined seven per cent compared to the third quarter primarily as a result of lower sales volume. But it was up one per cent year-on-year.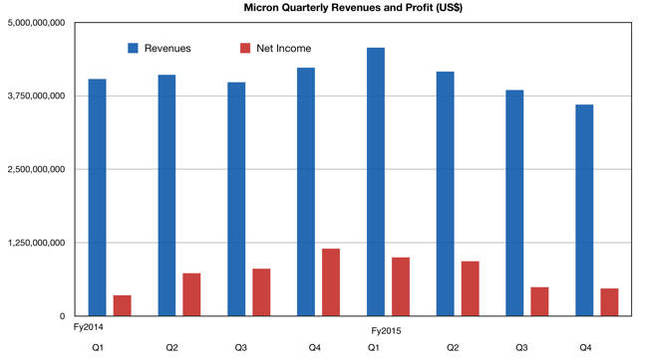 It expects the next quarter, Q1 in fiscal 2016, to deliver revenues between $3.35bn and $3.6bn.
Stifel MD Aaron Rakers notes: "Micron continues to emphasize confidence in its technology transitions [wth] 20nm DRAM and 3D NAND conversations trending ahead of schedule. 3D NAND is on track to be [the] majority of Micron's production output exiting calendar 2016."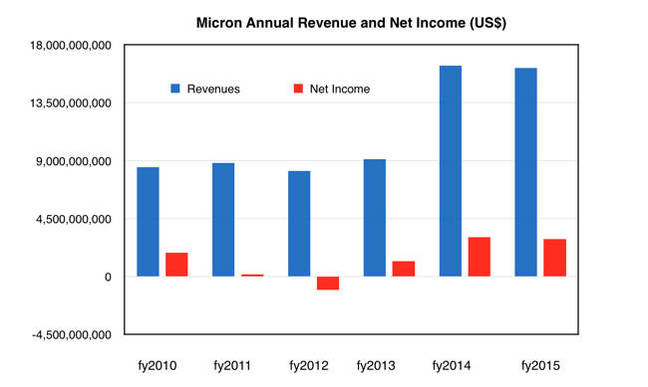 In an analysts' call, Rakers said: "Micron also highlighted its expectation of launching commercial shipments of the new 3D XPoint technology in mid-2016."
He added that "Micron noted that it has pulled out a bit from the low-end/client-focused SSD market as it has become a bit of a 'bloodbath' from a pricing perspective."
So flash demand is stable, PC demand should grow and Xpoint could/should start revenue-generation in the second half of calendar 2016. Sounds like it's going to be modest to good revenue growth in fiscal 2016, with things really looking up in fy 2017, if XPoint takes off and PCs don't dive again. ®