Siege of Shoreditch was like Stalingrad, but with Froot Loops Bloopers
Never come between a digital disruptor and his Unicorn Poop
---
¡BONG! FRONTLINE DISPATCH Tsunami survivors say the first sign of impending disaster is that the tide goes out a very long way. One minute you're on the beach with water lapping at your feet. The next, there's nothing as far as you can see.
That was how the start of the "Breakfast War" felt, too.
One moment I was in the Jedward Twins' Cereal Killer cafe, hanging with my girls: Lily Cole, Jemima Goldsmith, Eileen T'so. There were no clouds in Bong's blue sky, except choosing my next synthetic sugary high.
Would it be a simple, down-home Kix Berry Berry Corn Cereal, lacto free milk and a cheeky topping of freeze-dried marshmallows (£4.40, toppings 60p, lacto free 40p extra)? Or a Unicorn Poop cocktail (Ricicles/Party Rings/Fluff/Marshmallows/Hundreds and Thousands/, £4.80)? Then, just as I had decided, I looked up and noticed that Jems, Lily and Ails had melted away into thin air.
And then I heard them.
Far away in the East London gloaming at first, but unmistakable in their sinister intent.
"KILL THE HIPSTERS!"
And then:
"KILL THE YUPPIES!"
And then I saw them, their faces filled with rage – bearing down on the cafe. And I didn't need my sixth sense to know they weren't coming for a Mindfulness Class.
"The unspeakable in full pursuit of the uneatable" is how Morrissey put it in "Meat Is Murder". (Or it may have been Quentin Crisp.) And like Moz, I was now the quarry.
---
It had begun like any other late summer Friday evening in London's teeming digital cluster. The plaintive squeak of the unicycle punctuated the excited chatter of young social media engagement executives, like the call of the Common Sandpiper, a bird with Amber protected status according to the RSPB.
Later, filled to the gills with artisanal offal and craft beer, the young tech pioneers would drift away and a new tide of humanity would wash in. The bridge-and-tunnel crowd, who would end the evening shrieking Scissor Sisters hits while vomiting over each other. It was a rhythm we were all familiar with. The rhythm of digital innovation, disruption and renewal.
And I would be far above my work loftspace enjoying some Class As. And possibly – because work never stops for a venturing social entrepreneur – preparing another application to Innovate UK for some top-up catapult funding, or to the British Business Bank for equity blow.
Before we knew it, a pig's head appeared outside. Torches were being lit.
I had dreaded this moment for some time. We all know the warning from history. "First, they came for the digital transformation consultants," the saying goes. "And I did not speak out. For I was not a digital transformation consultant..."
"Then they came for the ideas brokers. And I did not speak out..."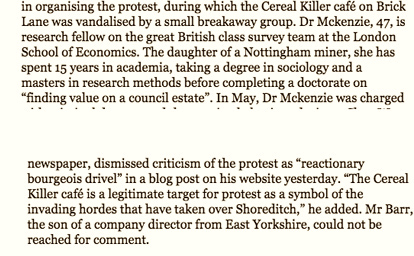 And part of me could almost sympathise. Only a few years ago, the area had been an investment opportunity for millionaire New British Artists. But they'd gone, and rents had gone up and up, as Shoreditch assumed the mantle of digital cluster from California. Some people couldn't accept the presence of a Marshmellow Submarine cocktail (Marshmallow Mateys/Golden Nuggets/Twinkie/whole milk, £4.60) except through envy-filled, bloodshot eyes.
Inside the cafe, we swung into action.
Swagways and Megaboards were hastily jammed against the windows. My assistant มาลัย (which means "Garland of Flowers" in Thai) doused anything inflammable in Iced Tea, Gatorade, and anything else expensive, imported and wet that she could find.
We might be here for some time, I surmised. We did a quick inventory to ration the remaining cereals. Our chances were slim, but we'd fight the mob bowl by bowl.