Testing CarPlay with Apple's most expensive ever accessory
Of course Ferrari drivers use iPhones. Isn't it obvious?
---
Vulture at the Wheel Apple's CarPlay – which we got the chance to test with the ultimate iPhone accessory, a £200,000 Ferrari California T – is fighting a standards conflict against Google's Android Auto, in what seems to be a replica of the war between Android and iOS.
There will be a separate review of the car later, but for the moment it's worth understanding that Ferrari's motivation for using CarPlay is that all Ferrari owners have iPhones, of course.
Not Samsungs or Vertus, but iPhones. They might have a work phone too but, according to Ferrari, the time its customers spend at the wheel of their cars is private, non-work time and when they're doing that the Jesus-phone is the only true path.
Ferrari is very much in the forefront of rolling out CarPlay; it was the first to launch in Europe, and while lots of manufacturers have signed up, only Ferrari, Hyundai and Cadillac have anything available.
Ferrari parent Fiat was very much in the Windows CE camp but (along with Ford) has now dropped Microsoft and both companies have moved back to Blackberry's QNX – car OS of choice and an evolution of the Mentor Graphics Nucleus OS, which powered mobile phones over a decade ago.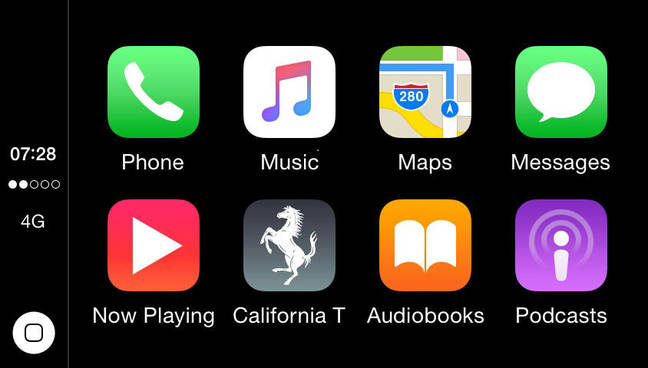 Ferrari is fantastic at explaining how its cars work, but dig into electronics and its understanding soon runs out. So we took the California T to RealVNC in Cambridge to learn about the workings.
The company develops CarPlay and MirrorLink systems for the car industry, and Mobile and Automotive Division veep, Tom Blackie (who has a 328 and no iPhone) and some of his team explained what's inside. They should know their stuff as the company is a core members of the Car Connectivity Consortium which built the MirrorLink standard.
Playing with CarPlay, albeit not in a Ferrari, is the company's day job since as well as flogging MirrorLink, RealVNC installs CarPlay, Android Automotive and its proprietary solutions. RealVNC's software is in production with twelve major automotive OEM brands and over 40 models of vehicle.
When Ferrari first started installing CarPlay, in the FF, it used a system from Magneti Marelli, Vxworks, but the one in the California T is QNX from Harman, the company which sold QNX to Blackberry.
It runs on a Freescale IMX6. This is reasonably powerful; a quad core processor with multiple rendering pipelines, but generally the heavy lifting of the work is done in the phone. When you plug the phone into the lightning-specific USB connector (there is a second USB port for lesser phones) the phone and the head unit recognise each other with the word CarPlay appearing.
The head unit then takes on its Zaphod Beeblebrox mode, either being CarPlay or Ferrari. A hard button takes you into Carplay mode, and from then on the buttons and controls are mostly under the control of CarPlay. To get back to Ferrari mode there is a Prancing Horse icon.