Amazon Web Services customers love hybrid clouds (true)
And fret over lack of cost controls
---
The public cloud is the only cloud and anything else is a pale imitation, according to Amazon. But customers appear seem unconvinced, with most running or intending to run a mixture of private and public clouds sourced from multiple vendors.
That's what a survey of IT professionals who attended AWS summits in San Francisco and New York this year, indicates.
Some four in five (79 per cent) are running hybrid clouds and of the rest, 30 per cent intend to tack on other clouds to their IT infrastructure. The respondents said software development and testing and enterprise apps are the dominant uses today for their AWS cloud platforms.
About a third of the respondents said they will grow cloud services by more than 50 per cent over the next year.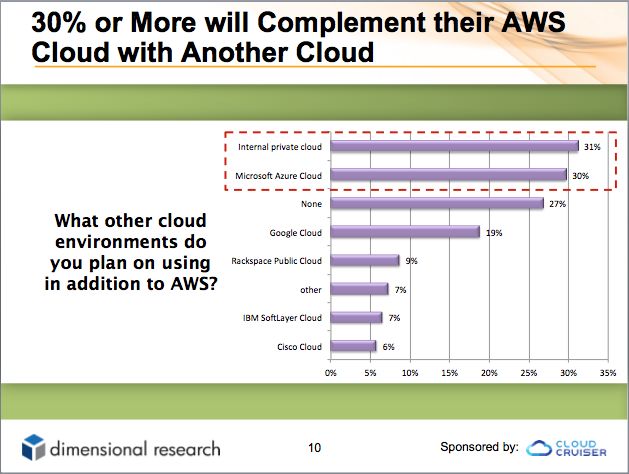 Mix and match
In much the same manner as the data roaming numpties who download films on their smartphones when abroad, cloud computing costs can quickly spiral - especially in the hands of the ignorant or careless.
And this was a concern for the respondents, with 66 per cent find it challenging to track cloud consumption for cost allocations and only 25 per cent able to align IT costs with consumption.
The survey was released on October 5, 2015 and conducted by Dimensional Research on behalf of Cloud Cruiser, the San Jose CA developer of cloud financial management software.
Cloud Cruiser's flagship product is called CloudSmart-Now, which is designed to monitor hybrid cloud usage by user and costs. Trackable clouds include AWS, Azure, Windows Azure Pack (WAP), VMware and Openstack. ®