This article is more than 1 year old
Ubuntu 15.10: More kitten than beast – but beware the claws
Wily Werewolf 'transforms' into similar creature WITH NEW SCROLLBARS
Delay of the land
The only other notable thing I noticed in the change logs is a new option in the dconf setting panel that lets you control the amount of delay before showing the menu when you press the Alt key (you'll need to install dconf through the Software Center). If you frequently trigger this menu when you meant to hit alt-tab (but didn't get to tab quick enough), you can eliminate this problem by increasing the delay time.
There are some somewhat bigger changes afoot under the hood in this beta, including an updated kernel. Ubuntu 15.10 will ship with the Ubuntu Linux Kernel 4.2.0-11, which is pulled from the upstream 4.2.1 Linux Kernel (this is true for all flavours, not just Unity). Linux kernel 4.2.1 brings better support for Intel Skylake CPUs and AMD GPUs.
This release also sees the arrival of Mesa 11, which is notable for bringing OpenGL 4.1 support to RadeonSI and Nouveau drivers. However, as far as I can tell, OpenGL 4.1 with RadeonSI isn't working in Ubuntu 15.10 beta 2.
For the most part, Ubuntu 15.10 has made the jump to GNOME 3.16. Ubuntu 15.04 still used a surprising amount of GNOME 3.14 apps and libraries, but most of those have finally been updated to 3.16. Exceptions include Nautilus, which remains at 3.14 (likely due to how heavily Canonical patches it in an effort to retain some functionality of a file browser) and Gedit, which remains at 3.10. Probably because, seriously, it's a text editor. What more do you want from it?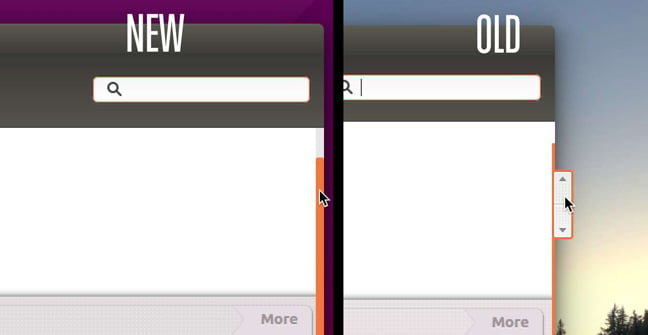 The new GNOME scrollbars next to the older, Canonical-created scrollbars
The application suite has been updated to the latest available version as well, including the hot-off-the-press Firefox 41, LibreOffice 5 and Empathy 3.12.10.
In my tests, this release has been as stable and bug free as a final release, which isn't surprising given the relatively minor nature of the changes involved. I still wouldn't suggest using it on your daily machine just yet, but while I normally only update for spring releases, this is one x.10 that I wouldn't hesitate to install. Updating won't gain you much, but it's correspondingly unlikely to mess up your system.
That said, there are plenty of theme glitches. The GNOME Image Viewer (Eye of GNOME) gains support for client-side decorations, but apparently lost its GMenu in the process. I also had some problems with a couple of other apps (Evince for one), but in most cases this was solved by maximizing and then unmaximizing the window. In other words, force a redraw and most visual glitches will correct themselves.
A release candidate of Ubuntu 15.10 is scheduled for October 16, with the final version coming a week later on October 22.
Download as you will. ®