The arrival of Netflix in Australia has brought with it the largest-ever spike in downloads recorded in Australia.
New Australian Bureau of Statistics Internet Activity shows that in the six months to June 2015, Australian users of fixed line broadband collectively downloaded 1,349,975 terabytes of data.
The ABS measures downloads every six months and found that in December 2014 the nation downloaded 1,112,379 terabytes. The 237,596 terabyte spike in downloads is the largest raw increase the ABS has recorded in the Internet Activity series, which stretches back to 2010. Some surveys have produced higher percentage increases, with the December 2014 – June 2015 clocking in at a 17.6 per cent increase to rank fourth on that measure, just a little under the long term download increase average of 19.99 per cent.
However we massage the numbers, remember that Netflix launched in Australia on March 24th, 2015. Even with the streamer's cunning cacheing, how else might one explain the spike in data downloads?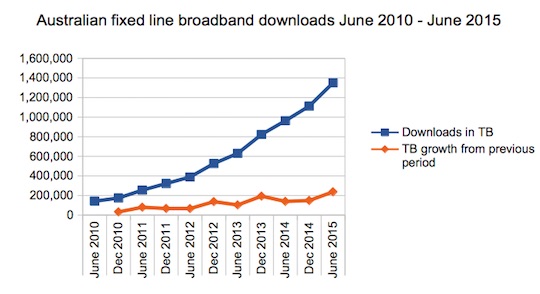 Fixed line broadband downloads in Australia, 2010-2015. The six months to Dec 2010
saw 141,892 TB downloaded. Six months to June 2015 saw 1,349,975TB
Downloads over wireless broadband lag far behind. Wired downloads are up by about 850 per cent over the period the ABS has surveyed, but wireless downloads have climbed from 13,330 terabytes in the six months to June 2010 to 38,7673 terabytes in the same period of 2015. That's not quite triple the downloads.
Once we add in the amount of data downloaded to mobile phones, things look better: 71,572 terabytes landed in mobile phones in the six months to June 2015, up from 52,745 in the six months to December 2014.
Other data points in the new ABS release show the freeze on new cable connections brought about by the acquisition of Australia's hybrid fibre-coax networks by nbnTM, the entity building Australia's national broadband network. The table below shows the Bureau's assessment of the Australian internet connection landscape and there's no change in the number of fibre connections, plus a decent jump in fibre use.
| |   | June 2014 | Dec 2014 | June 2015 |
| --- | --- | --- | --- | --- |
|   | DSL | 5 065 | 5 099 | 5 106 |
|   | Cable | 946 | 966 | 996 |
|   | Fibre | 203 | 324 | 420 |
|   | Satellite | 80 | 75 | 69 |
|   | Fixed wireless | 50 | 67 | np |
|   | Mobile wireless | 5 954 | 5 996 | 6 004 |
|   | Other | 2 | 5 | np |
| All broadband connections |   | 12 300 | 12 532 | 12 667 |
| Total number of subscribers |   | 12 483 | 12 691 | 12 762 |
How will the ABS count the imminent wave of fibre-to-the-node services Australia's promised will start to be available any week now under the Glorious Turnbull/Fifield Plan? We'll let you know when the next version of this data emerges. ®