Microsoft is announcing new Windows 10 devices at an event in New York today. This is crunch time for the "One Windows" strategy, the idea that presenting developers with something like a single platform across many device types will stimulate a strong ecosystem of applications.
The company is expected to announce a range of devices, with the likely contenders being:
Surface Pro 4, an update to the Surface Pro hybrid device based on Intel's 6th generation "Skylake" processors, launched last month at IFA in Berlin
New Lumia phones running Windows 10 Mobile. Leaks suggest two or three devices, a 5.2-inch Lumia 950 with Qualcomm Snapdragon 808 hexa-core chipset, 20MB camera, 32GB storage and 3GB RAM; a 5.7-inch Lumia 950 XL with a Snapdragon 810 octa-core chipset and otherwise similar specs; and a low-end, 5-inch Lumia 550 with 1Ghz quad-core Snapdragon, 5MP camera, 8GB storage and 1GB RAM
HoloLens 3D augmented reality headsets
News about Surface Hub, to be released in January 2016. This is a wall-mounted touch screen PC with a 55-inch or 84-inch screen, designed for conferencing and team collaboration
More details about Windows 10 on Xbox One, extending the app platform to Microsoft's games console
Band 2.0, an update to Microsoft's fitness band. It may be too small to run Windows 10 itself, but could hook into PC and Phone devices as well as Azure cloud services
That's a lot of stuff - but does it add up to a compelling ecosystem to challenge Apple and Google?
The difficulty is that while Microsoft has an impressive story in terms of range of devices, if you look at its market penetration it is still largely PCs, a market which remains huge but where vendors are struggling to find growth.
PCs dominate in business, but with mobile owned by Apple and Google, and Microsoft choosing to invest in iOS and Android apps in support of its Office 365 cloud platform, it is hard for the company to persuade developers to look beyond the PC in their application efforts.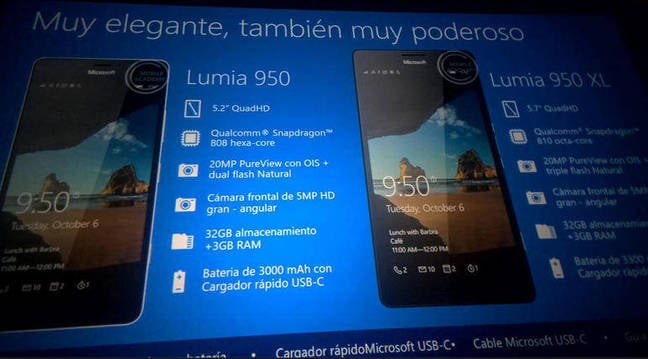 A leaked spec for the Lumia 950
The Windows Phone story has been one of frustration, since the launch of Windows Phone 7 in 2010, with the platform seeming to be on the verge of a breakthrough from time to time, but then falling back again.
Microsoft acquired Nokia, the main Windows Phone vendor, in April 2014, but rather than reinvigorating the platform the deal resulted in a further sapping of confidence, with CEO Satya Nadella in July 2015 announcing substantial job losses in the phone division, and a write-down of the value of the acquisition.
Microsoft's transition to Windows 10 Mobile meant that Windows Phone was pretty much on hold while the new operating system was under development, the result being that it fell further behind its rivals.
Window 10 Mobile has potential, but the previews have the feel of a PC squished on to a phone rather than the phone-optimized experience of the old Windows Phone.
In mitigation, it is more powerful than before and has new features such as Continuum, the ability to behave like a PC when docked (perhaps wirelessly) to a large display, keyboard and mouse, but surely Continuum underlines the point that this is a PC in disguise. It is also an ARM PC of course, like Windows RT, so will not run x86 applications.
Having a PC in your phone is not altogether a bad thing, of course, and Microsoft will be pushing Lumia as an ideal business device for companies using Office 365 or Azure Active Directory, the associated identity platform.
The forthcoming Windows 10 Business Store will let organisations purchase and assign applications in bulk for employees, targeting both Windows 10 PCs and mobiles.
Windows 10 PCs can be managed like mobile devices, giving businesses the ability to manage both PCs and phones seamlessly through management solutions such as System Center, which will integrate with the Business Store.
Although that sounds promising, the "app gap" between Windows Phone and other devices will continue to hold back adoption. Even in a business context, the fact that many companies in key sectors such as travel, financial and logistics have mobile apps for iOS and Android, but not for Windows Phone, is a real obstacle. When apps do exist, they are often inferior or rarely updated.
At this point then, prospects for Windows 10 Mobile do not look great. Apps on Xbox One? Maybe a bit. HoloLens? It is exciting technology, but following a hands-on demo at the Build conference in April, journalists (myself included) were not convinced that it is ready for a mass consumer market, though there will be niche adoption. Perhaps today's launch will show otherwise.
It is not all gloom. Surface Pro has done well for Microsoft as a nicely done Ultrabook, and Surface Pro 4 can build on that. We have not yet seen much of Windows Hello, offering authentication by face recognition, since it requires Intel's RealSense 3D camera technology which only the newest devices include; it is a powerful feature which could speed Windows 10 business adoption.
Another device about which I have heard little but praise is Surface Hub, which may make a substantial impact in the video conferencing world.
Can Microsoft simultaneously promote the "One Windows" ecosystem while also declaring strong support for iOS and Android for its SAS services? It is tricky messaging, the truth being that a strong Windows app ecosystem beyond the PC remains, for the moment, a distant dream. ®