This article is more than 1 year old
EU flings cash from €80bn pot at Seagate-led HPC storage project
Commish: Quick, grab some exascale cash
+Comment Data storage giant Seagate is launching a SAGE European Exascale HPC project with nine partners to find ways for storage systems to work with exascale compute mills, as part of a multi-billion-dollar EU research and innovation programme.
Seagate claims the project will research and redefine data storage in the era of extreme data and exascale computing, meaning computer systems running at a billion billion calculations a second.
The CPUs will need to read and write data to/from storage systems that can keep up.
Seagate's SAGE project is a contribution to the European Commission Horizon 2020 programme, claimed to be the largest EU research and innovation programme in history.
It will provide nearly €80bn of public funding over seven years (2014 to 2020) to support innovation in the technology sector; it seems the public sector loves both HPC/supercomputing and eye-catching public works.
SAGE is a short way of referring to Percipient StorAGe for Exascale Data Centric Computing. Well you would need a short way of saying that, wouldn't you, and PSEDCC doesn't exactly slip off the tongue.
What's with this "percipient" term? It means having good insight or understanding, so it could just be marketing.
There's more about it on the SAGE website where we learn its "architecture reflects the need for reducing data movement in order to improve energy efficiency, as well as the technology trend towards new non-volatile memory technologies".
It should use "a tiered storage approach with performance tiers that feature high bandwidth over power ratio (Byte/s/Watt) while capacity tiers feature large capacity over power ratio (Byte/Watt)".
"Multiple storage tiers as well as computing devices will be tightly integrated within a single system with a software stack that enables the efficient and cost-effective use of this heterogeneous hardware architecture," the site adds.
"The project will investigate the usage of next generation storage device technologies as part of the I/O hierarchy (including hardware as well as system software)," it concludes.
The SAGE Percipient Storage will have "the capability to run computations on data from any tier – with a homogeneous view of data throughout the stack," and Seagate is working in an object-based scheme with an API for applications that is designed, from the ground up, to cater for Exascale I/O loads and deep I/O hierarchies.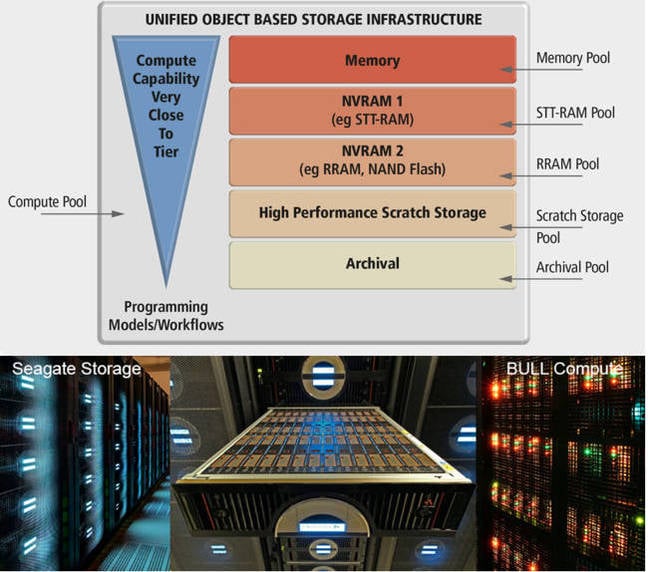 Seagate SAGE Percipient Storage scheme. See the STT-RAM and RRAM tiers
The nine partners in the Horizon programme are France's BULL SAS (Atos SE) and the French Alternative Energies and Atomic Energy Commission (CEA), Germany's Deutsches Forschungszentrum für Künstliche Intelligenz (DFKI) and Forschungszentrum Jülich plus Kungliga Tekniska Hoegskolan (KTH) from Sweden.
The UK's Allinea Software, Culham Centre for Fusion Energy, Diamond Light Source (UK's national synchrotron science facility in Oxfordshire) and the Science and Technology Facilities Council (STFC) complete the picture.
This SAGE scheme will run for three years from September 2015 and has eight fields of research, including:
Study of the application use cases
Co-designing solutions to address Percipient Storage Methods
Advanced Object Storage
Tools for I/O optimization
Supporting next generation storage media
Developing a supporting ecosystem of Extreme Data Management
Programming techniques and Extreme Data Analysis tools
Funding is provided through the "Towards Exascale High-Performance Computing", 2014/15 call, grant number 671500.
+Comment
It seems that it would be a great way for Seagate to develop its market requirements for coming Xyratex arrays or find an answer to DDN's WolfCreek burst buffer store issue - but we're sure the firm would never do that. ®