Avere is punting a three tier filer in the AWS cloud using its virtual FXT filer accelerator software.
The general idea is that you have compute instances running in the AWS cloud and they use file data, so you need a NAS in the cloud. You have choices about where to put the file data: EC2 RAM for the fastest access; EBS General Purpose SSD volumes are slower and cheaper but still give fast access; out to S3 for the cheapest, slowest file storage.
Its Virtual FXT product stores Big Data, Avere says, in S3 and provides caching facilities so that AWS cloud-executing apps using it get fast access.
For non-Big Data users Avere says you should have your data distributed across these three tiers as appropriate and use the virtual FXT's caching facilities to speed access to data in slower cloud stores.
CloudFusion is this concept turned into a product. Avere says: "Based on data access patterns and internal caching algorithms, CloudFusion automatically places the 'hottest,' most frequently used data, on Amazon EC2 RAM, while 'warm' data is placed on an Amazon EBS General Purpose SSD volume for high responsiveness to Amazon EC2. Finally, inactive 'cold' data is placed on Amazon S3 for the lowest cost and best data protection."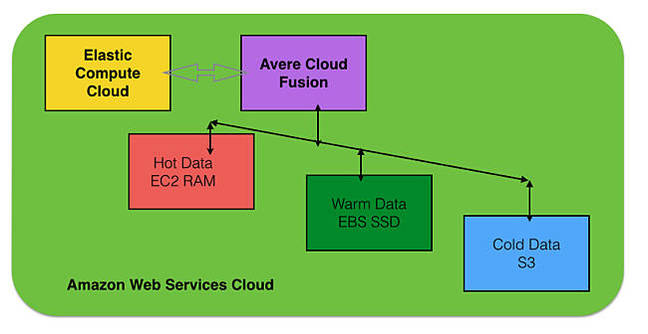 Avere's AWS tiered NAS
The CloudFusion feature set includes "snapshots to protect data against accidental deletion and corruption, encryption to secure data against unauthorized access, compression to make the most efficient use of storage capacity and a simple-to-use web GUI that makes setup and administration easy and provides visibility into the file serving operations of CloudFusion."
Avere's CEO and president Ron Bianchini visited the quote cannery, saying: "Enabling customers to run standard NAS applications on Amazon EC2, while storing the bulk of their data on Amazon S3 provides the optimal cost and performance for a wide variety of applications."
What we have here is a cloud NAS, Avere having succeeded where Parascale failed. Theoretically it seems simple to us here at the Reg storage desk to extend this to the Google Cloud, Azure and OpenStack.
And we wouldn't be that surprised if Avere started extending its product to offer file data protection facilities in the cloud. It already supports Amazon's Glacier, after all.
There is a CloudFusion microsite and the software is available in the AWS marketplace with end-user pricing starting at $0.99/hour for AWS r3.xlarge instances. A 21-day free trial is available but AWS usage fees will surely apply.
CloudFusion is used with Amazon EC2, Amazon EBS, and Amazon S3, which are separately billed at AWS current rates. ®