This article is more than 1 year old
AWS jabs at rivals, proclaims cloud the 'new normal'
We do hybrid too, insists senior VP Andy Jassy
AWS Reinvent "This is not intended to be a sales and marketing conference, it's really intended to be an education and training conference," said Amazon Web Services (AWS) Senior VP Andy Jassy at the keynote for Reinvent under way in Las Vegas. Yet marketing dominated his keynote as he jabbed at competitors.
The truth is, AWS does have an amazing story to tell. Jassy began by showing off a remarkable set of figures: over a million active AWS customers, EC2 (virtual machine) instances up 95 per cent, S3 data transfer up 120 per cent, database services up 127 per cent, and revenue up 81 per cent to over $7bn, all figures year on year.
During the keynote, Jassy made several announcements, covered by the Reg here, some with fun names like Snowball, a shippable 50TB storage appliance for getting data into AWS, and SPICE, the Super-fast Parallell In-memory Computation Engine that drives Quicksight, a new business intelligence service. None were huge news, though, especially compared to the Aurora database service announced last year - and now the fastest-growing AWS service, according to Jassy - or the Lambda compute service, which auto-scales on demand, also announced at the 2014 Reinvent. There will be more to come at a second keynote today, which is likely to be more technical in nature.
What was notable about Jassy's keynote was the extent of his focus on the competition, more than I recall from previous such events. One target was Oracle, not so much redacted as highlighted on slides showing examples of customer dissatisfaction. "It is extremely rare that I meet with an enterprise customer that isn't looking to flee their existing database provider. They just don't feel like they are treated in the right way," said Jassy, before introducing new migration services.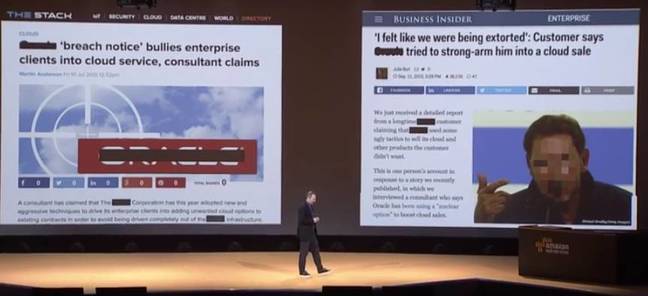 Not so much redaction as highlighting competitor woes
There was also a sense that AWS has Microsoft in its sights, or possibly its rear view mirror. Jassy included the company it its list of enterprise vendors with lower growth than AWS, noting its "single digit decline" in revenue, though with some sleight of hand, comparing the 81 per cent revenue growth for AWS (which is a division of Amazon) with the total revenue growth for other companies.
AWS, Jassy assured the crowd, "has a lot more functionality than any other infrastructure provider." Customers "don't want a circa 2011 cloud platform, they want all of the functionality that the leading platform has."
Jassy also spent time talking up AWS in the context of hybrid cloud, something the company does not like, preferring to speak about transition. "We know there are loads of enterprises that aren't ready to retire their data centres yet. They really want to run their on-premises data centres alongside AWS seamlessly," he confessed.