4K catches fire with OTT streamers, while broadcasters burn
TV industry looks to UHD Phase II, but Amazon delivers now
Fuel to the Fire
The irony is that Sky's first 4K device could actually be an upgraded Now TV streamer. While mainstream broadcasters remain mired in standards and talking shops, fleet-footed OTT services such as Netflix and Amazon have already committed to UHD.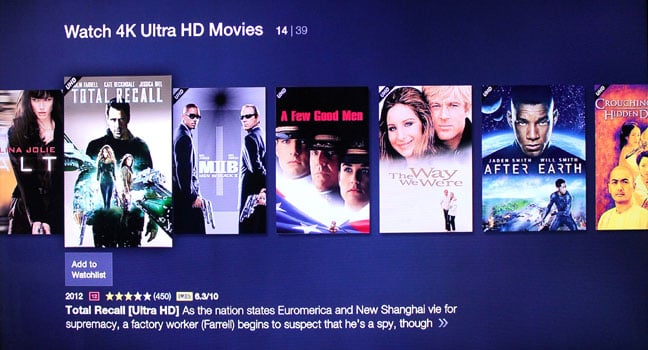 Something for everyone? Amazon Fire TV 4k movie offerings
And now Roku has jumped onto the bandwagon, announcing the UHD capable Roku 4 streamer. Sky, of course, is a Roku shareholder and uses the platform for its Now TV boxes. It might require some rights renegotiations, but a 4K capable Now streamer would seems a possibility.
4K streaming services have, until recently, been the province of TV apps, but that's changing fast. The new Amazon Fire TV streaming box offers both Netflix and Amazon Prime and video services in UHD. If you subscribe to both, there's a surprising wealth of content to watch, both in TV shows (Transparent, Better Call Saul, Bosch, Marco Polo, Daredevil and more) and movies (Elysium, Spider-Man 3, Fury, Ghostbusters 2, MIB 3 to name a few). The device is a genuine game changer.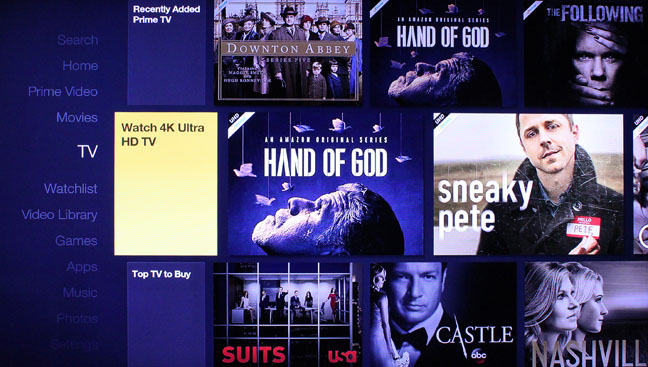 Amazon's OTT service delivers 4k television series while the broadcasters debate the issues
Cosmetically, the new Fire TV chassis looks much the same as its predecessor but there are a couple of differences. The optical digital output is out, replaced by a Micro SD card slot. This can't be used for any media playback (photos, music, videos) but is provided purely as expandable storage for apps (up to 128GB).
If you don't expand you'll be limited to the 2GB of onboard storage. It's worth popping in a card, as the casual games available look good and play well, thanks to a quadcore processor said to be some 75 per cent faster than the first box, and an Imagination Technologies PowerVR GX6250 graphics engine.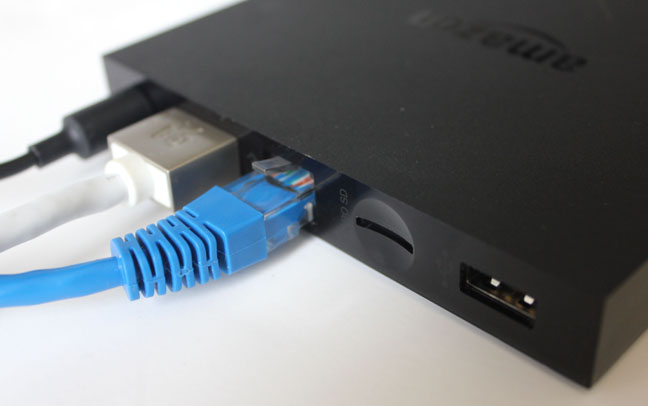 Wi-Fi savvy, of course, but Ethernet will ensure connection stability. Unlike Roku, Amazon doesn't permit content to be played from the new micro SD card slot. The USB port does work with peripherals such as a game controller
In use, this Fire TV is just as slick as the first gen iteration – and importantly it's affordable at £80. You'll need a TV with a 4K HDMI input that's HDCP 2.2 compliant to unlock the UHD stream, as well as needing a decent fibre network connection (around 15Mbps) but the clarity is excellent – certainly superior to HD from the same services. Sci-Fi yarn Elysium looks pretty amazing pouring out of this little box, and the fidelity available from cop drama Bosch is utterly arresting.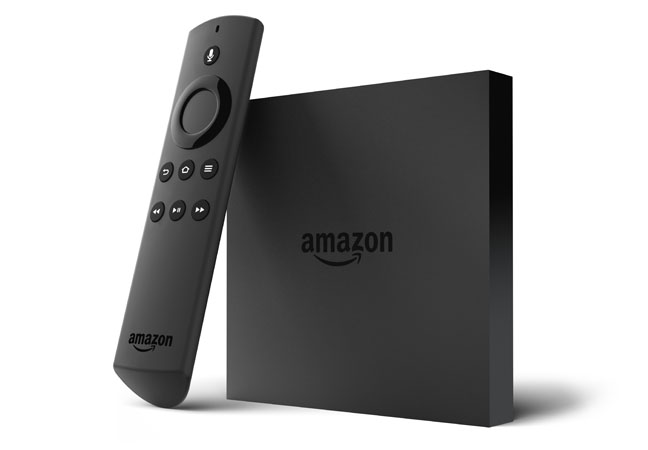 Amazon Fire TV box revamped with UHD goodness
Between ye and me, the UHD Fire TV streamer isn't capable of HDR (telly tech discussed in a previous Breaking Fad) – at least, not yet. But that doesn't really matter. What we have here is a little bit of genius that offers old school benefits such as super sharp images and ease of use. If you want to get angsty about HDR, best go find a broadcaster. ®
Steve May is a veteran AV journalist and senior editor at Inside CI.