Playmobil cops broadside for 'racist' pirate slave
US mum up in arms over neck-shackled figurine
---
A California mother is less than impressed with a Playmobil pirate ship set which includes a dark-skinned figurine with a shackle around his neck.
Ida Lockett's son received the vessel as a fifth birthday present, according to CBS in Sacramento. She said: "He was excited when he got it. I spent the weekend putting it together."
However, once she'd wrapped the construction she realised one of the characters included with the set "came with instructions to put some sort of neck piece on him".

This, Lockett claims, is clearly a "slave collar". She said: "It's definitely racist. It told my son to put a slave cuff around the black character's neck, and then to play with the toy."
The offending item was bought at Toys 'R' Us by Lockett's sister Aimee Norman. Stephen Webb, president of the Sacramento branch of the National Association for the Advancement of Colored People (NAACP), demanded action, thundering: "This is deplorable; this cannot be accepted, and it needs to be pulled off the shelf."
Norman broadsided Playmobil USA on its Facebook page, declaring herself "MORTIFIED to have recently bought your Pirate Ship Set" under this illustrative montage: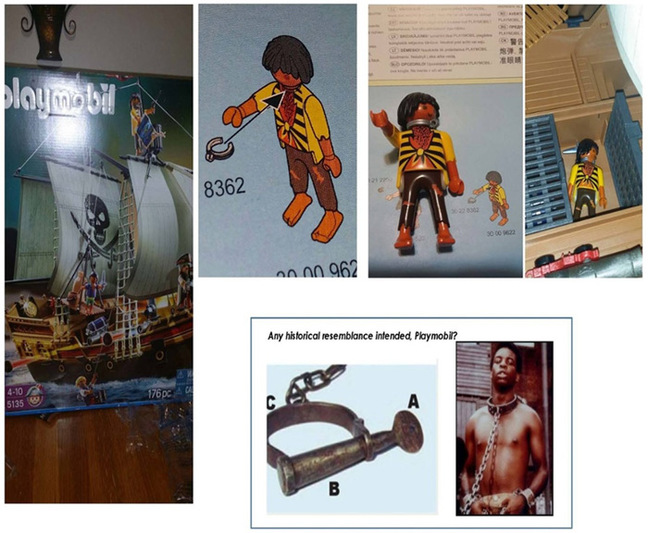 Norman added: "WOW. Would it be too much to ask for you to just create a regular old black pirate?"
In a statement to the Washington Post, Playmobil defended: "If you look at the box,* you can see that the pirate figure is clearly a crew member on the pirate ship and not a captive. The figure was meant to represent a pirate who was a former slave in a historical context. It was not our intention to offend anyone in anyway." ®
Bootnote
*Here's a detail from the photo used on said box: