This article is more than 1 year old
A thousand mile Atom merci mission: Driving from Monaco to London in an open-topped motor
Windscreens are for wimps
Vulture at the Wheel Eagle eyed Reg readers who read our review of the Rolls-Royce Wraith will have spotted that there was an Ariel Atom parked next to the Rolls-Royce in Monaco and ahead of us near Rouen.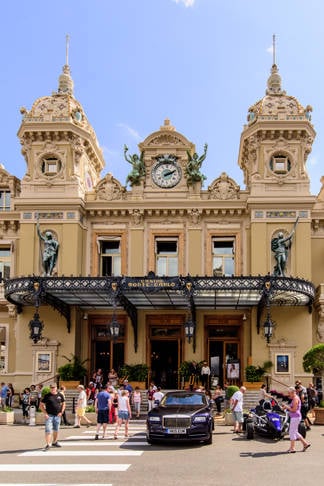 Only the smartest cars get to park here
This is not a coincidence. The trip to the South of France had a purpose: A friend had an Atom in St. Jean Cap Ferrat which needed to come back to London. It could have done so on a trailer, but where's the fun in that?
We reasoned that driving it back was the thing to do. But even the most hardcore petrolhead is going to baulk at 890 miles non-stop in a car with no roof, windscreen and a screaming supercharged engine. So the Wraith was employed as a support car. Four of us took part in the adventure; I was accompanied by Guy Swarbrick and brothers Paul and Craig Tindall.
This particular Atom is an Atom 2, with a 275 bhp supercharged Honda four cylinder engine. Despite being eleven years old it had done just 3,000 miles as a plaything around the roads of France and Monaco, having been trailered down many years ago.
We arrived after the thousand mile drive from London at 3am and even before retiring to bed the Atom became the centre of attention. We might have climbed out of a quarter-of-a-million-pound Rolls-Royce but the Atom, worth a tenth as much, was immediately the centre of attention.
When describing the planned journey to people who didn't know what an Atom was, all it took was a reference to Jeremy Clarkson's face wobbling in the wind for the penny to drop.
In the bright, clear Mediterranean morning sun pretty much any car looks special but the Atom and the Rolls-Royce even more so. Especially after the trans-France mass of dead flies had been washed off the Wraith.
Sadly, one member of the party couldn't see it. Guy Swarbrick, the photographer, had torn one of his two week contact lenses and in a bid to save it had damaged his cornea. He woke in agony unable to open his right eye, with the left one keeping itself shut as a reflex. Not a good situation for someone who had two days of driving and photography scheduled. A walk down to the pharmacy in the village secured some antibiotic, albeit not anaesthetic, eye drops.