This article is more than 1 year old
The incredible IT hulk: Dell + EMC - did someone say 'synergy'?
The servers, the storage, the synergy - the skinny
EMC/Dell deal - Analysis So, Dell and EMC have signed a definitive agreement for Dell to buy EMC and maintain VMware as a publicly traded company. Essentially EMC goes private as part of Dell and Elliott Management gets the payoff it wanted.
The big eight IT suppliers: Cisco, Dell, Oracle, EMC, HDS, HP, IBM and NetApp, have consolidated to seven with this $67.1 billion takeover deal, which has been prompted by activist investor Elliott Management picking away at EMC's sore spots, its low valuation compared to its subsidiary VMware, and low and slowing growth in its mainstream storage array business.
The two companies say EMC will bring its presence in the largest enterprises in the world to Dell's strengths in SMB, government and healthcare.
They say the revenue synergies from the deal are three times bigger than the cost-saving synergies, with VMware seeing an extra billion dollars in revenue over the next five years through being able to sell into Dell accounts and through Dell's channel. Dell will also look to sell its servers and other gear into IBM accounts.
With Dell and EMC joining together in the tech world's largest-ever orgasm takeover the effects on the two component organisations themselves, the many products, their OEM and other channel partners, their customers and competitors will be profound.
The Federation model has failed for EMC, whereas the hierarchical organisation has survived through many vagaries of fortune at Dell.
Deal effects on Dell and HP
The deal outline is described here. It should close in mid-2016, subject to various regulatory matters, with existing management staying in place. When it closes then Michael Dell will be chairman and CEO of the whole shebang. We anticipate that EMC Chairman and CEO Joe Tucci will then finally retire.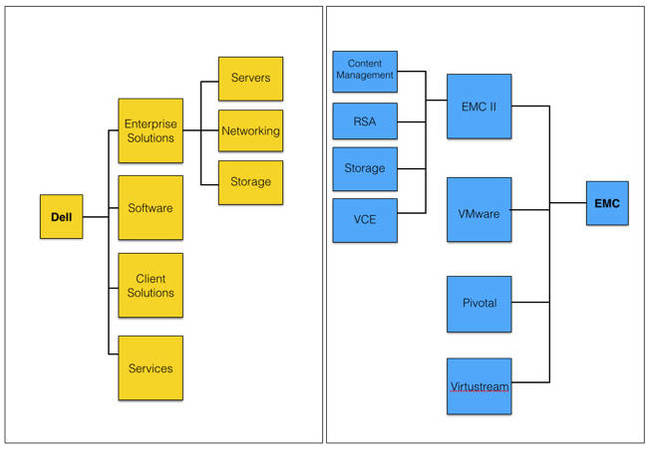 Outline Dell and EMC org-charts
Dell has a hierarchical organisation while EMC is a federation of semi-independent businesses. David Goulden is EMC Information Infrastructure (EMC II) CEO. Pat Gelsinger runs VMware. Rodney Rogers runs Virtustream, the cloud management company which EMC bought in May. Rob Mee runs cloud software system generating subsidiary Pivotal, after founding CEO Paul Maritz stepped down in August.
The two most senior EMC CEOs are Goulden and Gelsinger. All main EMC execs stay in place, with Pat Gelsinger now running the crown jewel, VMware and not facing any potential bruising challenges for exec positions in his staff.
Dell is run by Michael Dell, with Marius Haas president of Enterprise Solutions (servers, networking and storage), John Swainson being Software president, Suresh Vaswani presiding over Services and Jeffrey Clarke being Client Solutions president. Karen Quintos is the chief marketing officer. Within Marius Haas's organisation, Allan Atkinson runs storage.
Dell's server business goes to EMC in Hopkinton, MA, but other changes that may happen are not being talked about. Joe Tucci said: "EMC Information Infrastructure, or EMC II as we call it here, led by David Goulden, is the largest business in the Federation. I am incredibly pleased that Michael and I have agreed that the headquarters of our combined Enterprise Systems Business will remain in Hopkinton, Massachusetts.
"In this business we will join our server, storage, converged infrastructure and other related capabilities. Our combined business will address more of our customers' needs and will be front-ended by a large, world class go-to-market engine. Impressively, this business will start life with more than $30B in revenues."
With servers going to Hopkinton then Haas's organisation has suffered a huge revenue amputation. No one wanted on the EMC-Dell conference call to talk about what happens with Marius Haas and David Goulden.
Our belief is that, effectively, the Dell storage products will get folded into EMC's storage range, with EMC II CEO David Goulden staying in place and having his senior product exec, Jeremy Burton, working with Dell's Alan Atkinson to identify survivors (winners) and losers from amongst the overlapping products.
Marius Haas will either stay running a reduced organisation or take a hike.
It's obvious that whole sets of back-office functions, such as HR, legal and the financial ones, will have substantial overlap and that overlap, meaning people, will be eliminated to save cost.
Product overlaps and complements
On the product front is where it gets tortuous. A range of PCs, workstations, notebook and tablet computers is supplied by Dell and EMC is nowhere here. In servers and at its simplest, Dell has a range of x86 servers while EMC uses embedded white box servers in some products, such as Quanta ones in the ScaleIO Node and VXRack products, and Cisco UCS servers in various VCE products such as vBlocks.
Pat Gelsinger tweeted:
Just finished press call with @MichaelDell, Joe and David, Back to Palo Alto later to celebrate with @VMware pic.twitter.com/7hAkOBABPL

— Pat Gelsinger (@PGelsinger) October 12, 2015
If you're not sure who's who, from left to right there's David Goulden, EMC II CEO; Joe Tucci, EMC chairman and CEO; Michael Dell, Dell chairman and CEO; and Pat Gelsinger, VMware CEO.
Dell's networking products mostly use OEM'd or resold products for switches of various kinds and adapters. Dell acquired Force10 two years ago which currently provides some networking hardware backbone.
The Dell SecureWorks and EMC RSA stuff should come together without too many issues.