This article is more than 1 year old
Amazon Fire HD 8: Mid-spec Nokia Lumi... er, MediaTek slab
Amazon's Fire tabs shift in wake of Fire Phone debacle
There's a wind of change blowing through the Amazon devices lineup, and I suspect its source is the pricey fart that was the Fire Phone. Previous Fire tablets have tended to offer high-end parts for mid-price money. The HDX 8.9, which is still being offered, is a good example. But I reckon the HDX's days are numbered.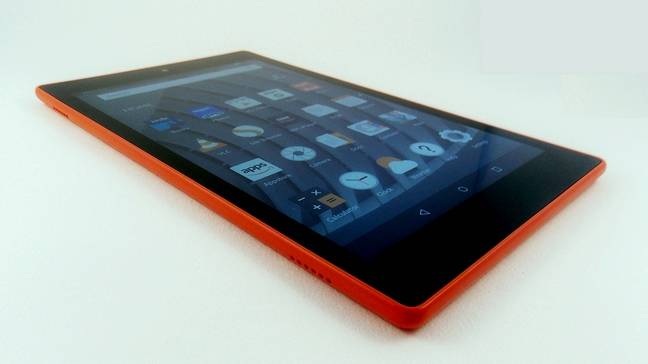 Amazon's Fire HD looks like a big Nokia Lumia 635. That's no bad thing. Built like one too.
Why? Well, the Fire Tablet page on amazon.co.uk only lists the toddler-targeted Fire Kids Edition, the Fire HD 6 and the three models announced last month: the £50 Fire, the £130 Fire HD 8 and the £170 HD 10. These are all machines offering lower-end parts for budget money. If you want one of the higher spec 2014 devices, you have to search for it.
It's the HD 8 that Amazon has sent The Register and I can see why. It's by some way the pick of the bunch, sitting between the too small, too basic 7-inch Fire and the too big HD 10. Remember the HD 8 and 10 are identical in all ways other than screen size (the 800 x 1280 display resolution is common) and maximum built-in storage, the 10-incher having a 32GB option.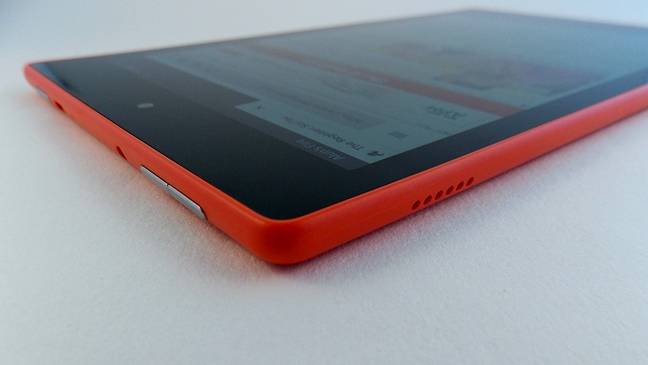 Design of the new cheapo Fire tablets marks a radical aesthetic break with previous models.
The new Fire tablets mark a significant change of aesthetic tack for Amazon. Gone is the slightly angular look and rubberized feel and in has come a rounded minimalism. My orange HD 8 looks like a big Nokia Lumia device. It's built like one too. All in all that's no bad thing.
As befits a device that will certainly see regular use as an e-reader, the HD 8 is a pretty elfin 214 x 128 x 7.7mm and weighs only 311g. That compares favourably with the vastly more expensive 7.9-inch iPad Mini and makes it more wieldy than the cheaper 8.3-inch Tesco Hudl (which incidentally received an unexpected update to Android 5.1 as I as writing this review).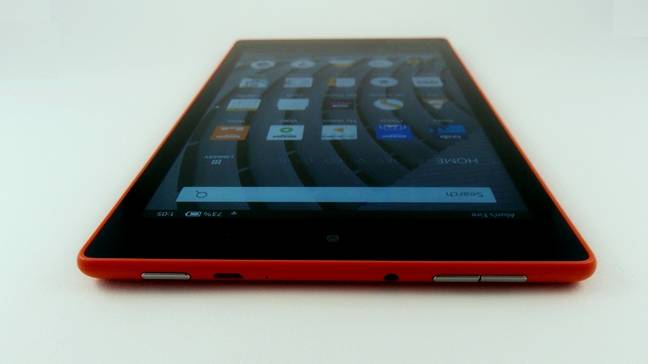 Ports and controls all grouped together at the top.
The quality of the design and build impresses too. The back has nicely curved edges, making it a comfortable if sometimes rather slippery hold and all the controls and ports are conveniently grouped together at the top. The power button and two-piece volume control are on opposite sides so you don't mistake one for the other while the 3.5mm audio jack and microUSB port sit in between.
To back up the 8GB or 16GB of built-in storage (depending on version, see below) there's a microSD card slot good the cards up to 128GB. Amazon now offers offline video viewing with Prime membership so the expansion slot is an important addition.