Come on baby, light my fire
While you couldn't describe the HD 8's screen as high definition, spreading 800 x 1200 pixels over an 8-inch diagonal still results in a dots-per-inch figure of 189, which is just enough to avoid any pixelation issues. The difference between 189dpi and 149dpi, which is what you get with 10.1-inches and 800 x 1200, is clear to behold.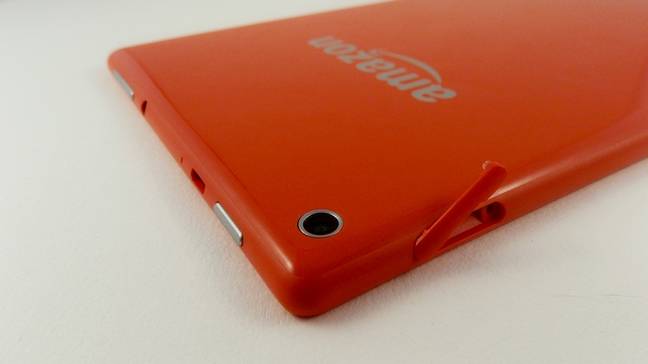 Card slot good for cards up to 128GB. Useful now that you can download Prime video content to view off-line.
Resolution aside, the Gorilla Glass-covered IPS panel is bright and colourful and can be looked at from any angle without you getting the feeling you've dropped some bad acid. The one problem is the absence of an ambient light sensor so you will be regularly adjusting the brightness.
The HD 8's media playback credentials are underlined by the excellent Dolby Atmos-enhanced speakers built into the left-hand side. Or the top, if you are holding the thing in landscape. Held thusly, the speakers are clear of being accidentally covered by your hands (a Hudl failing) and pump out a strong, loud and impressively composed sound.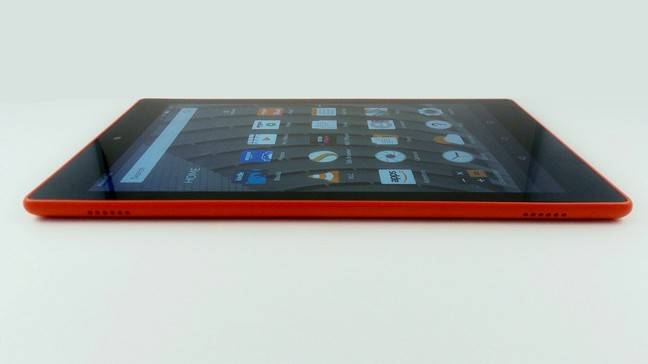 Stereo speakers are well positioned and sound very good.
The Fire HD 8 runs on a MediaTek MT8135 chipset, which boasts a quad-core processor with two 1.5GHz cores and two 1.2GHz. That is combined with 1GB of RAM and a PowerVR Rogue G6200 GPU. That list of components didn't give me any reason for optimism when I read it. Nor did the fact that AnTuTu, my preferred benchmark app, refused to even run.
But credit where it's due, the HD 8 motors along quite nicely. The UI is fluid, the screen flip from portrait to landscape is prompt even when playing video. Using the GeekBench 3 app, the HD 8 produced a single core score of 773 and a multi-core score of 1497. That compares to the Hudl's scores of 796 and 2159 respectively.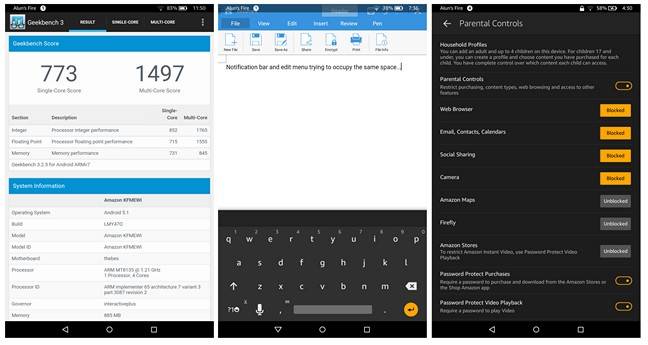 Benchmark scores not bad, Documents app a bit buggy, parental controls impressive.
When it comes to real world performance, the HD 8 and Hudl are again broadly similar and that's praise for the Amazon slab. To test the graphics performance of the HD 8, I ran EA Games' Real Racing 3 and it played perfectly. There was no undue build-up of heat either.
The latest version of Fire OS is called Bellini and is based on Android 5.0 Lollipop. It's the most Android-like of the Fire OS incarnations to date. Gone is the messy ticker-tape icon list at the bottom of the screen to be replaced by virtual back/home/recent buttons. If you didn't know better you'd swear it was just a heavily skinned version of Android rather than a fork.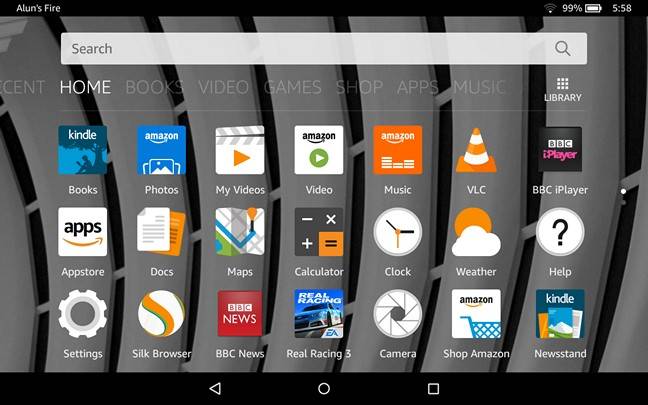 Fire OS 5 Bellini looks a lot like Android 5.0 on which it's based.
Across the user interface's 10 screens everything is arranged in an idiot-proof manner. The principal page holds all your apps and scrolls vertically. You can condense icons into folders to keep things neat. To the left of the home page you'll find all your recent app, file and media interactions, to the right your Amazon-rented books, videos, games, apps and music, the Amazon store proper and the Amazon news-stand.