It's a sellers' market.
No matter which page you are on (and there's a category ticker below the search bar in case you forget) there is an icon to take you to your associated library and another to take you to the relevant part of the Amazon store to buy more stuff. As a way of separating people from their hard earned cash, it's hard not to be impressed by the Fire 8 HD.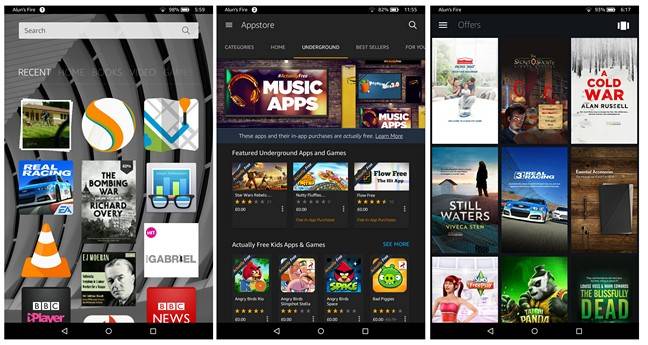 Layout is idiot proof, Underground apps genuionly free, lock screen "special offers" an anoyance.
Of course the Amazon app gap is still an issue. Instagram, Snapchat, Pocket, PayPal, Dropbox, Nationwide; just half a dozen of the apps on my tablet that are not to be found in the Amazon App Store.
Perhaps more serious is the lack of games. Sure, Real Racing 3 is there, but Modern Combat 4? Or 5? Or NOVA 3? Nope. And, of course there are no Google apps. YouTube, Gmail, Maps, Keep, Drive...you name it, you won't find it in the Amazon App Store.
On the plus side, the new Underground part of the App Store features games and apps that are genuinely free, not just free to download with in-app purchase options lurking around the corner like a mugger outside a public toilet. That combined with the various Free Time child-safe content and access restrictions will appeal to customers with nippers.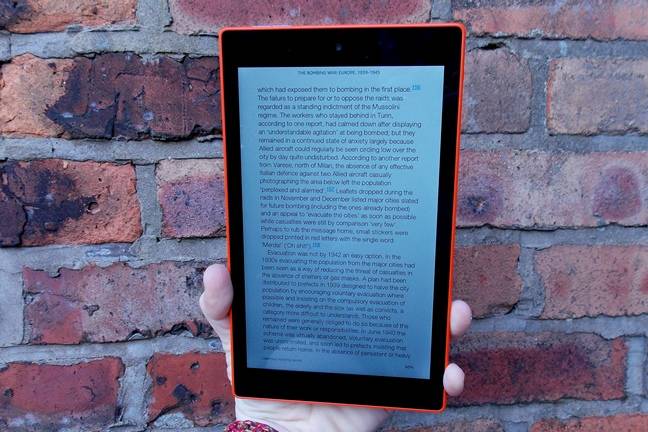 At 311g the Fire HD is light enough to be held as an e-reader. Which is just as well, this being Amazon.
Fire OS still has the odd rough edge though. To start with there's no equivalent of Siri, Cortana or Google Now. Maybe Alexa will migrate from Echo to Fire OS in due course but right now you can't talk to your Fire tablet. And when you open a document the translucent notifications bar overlays the top half of the edit menu, which is just plain careless.
There's no GPS chip in the HD 8 and no Mayday on-demand video help either, just a watered down remote screen access option that requires a phone call. I wonder if that means Mayday was over- or under-used?
The Firefly identification app is still present but I still can't convince myself that it is anything like as big a deal as Amazon thinks. There's no infrared transmitter, FM radio or NFC chip but you do get dual-band Wi-Fi and Bluetooth.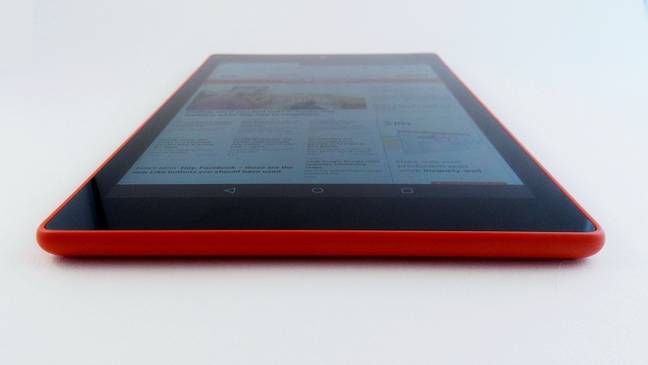 Battery life good rather than exceptional, build quality high. No discernible gap between body and screen.
For cameras you get 5MP with autofocus at the back and VGA at the front. Neither is anything other than rank ordinary but do you really plan on using a tablet camera for anything other than Skyping? Thought not.
Amazon doesn't quote a battery capacity, just that a charge is good for "up to eight hours". Streaming Netflix drained the battery in just over six hours. Looping a locally stored video 720p MP4 did the same in seven hours thirty-five. Not bad numbers but not outstanding either.
Annoyingly, the headline price of £130 only gets you the 8GB version with adverts on the lock screen. To get a 16GB version with no lock-screen "special offers" involves coughing up an additional £20 and £10 respectively. That puts the HD 8 price at £160, well north of the Hudl's £100.
The Reg Verdict
After the disaster that was the Fire Phone, it seems the coin has dropped at Amazon. Fire tablets are not, and never will be, direct competition for devices running Android and iOS. Rather they should be cost-effective machines designed primarily to access your Amazon content and for general media consumption. Everything else people are doing on their Android or iPhone mobiles and that's a party Amazon is never going to gatecrash. Looked at in that light, the HD 8 makes some sense though I'd be happier if £130 got you the 16GB advert-free version.

Amazon Fire HD 8: Mid-spec Nokia Lumi... er, MediaTek slab
Eight-inch tablet with a 800 x 1200 IPS screen, quad-core MediaTek SoC, 1GB of RAM, Dolby Atmos-enhanced stereo speakers, Amazon's Fire 5.0 Android-fork OS, 5MP and VGA cameras and excellent parental controls. Amazon's App Store is no match for Google Play or the Apple App Store though.
Price:
£129.99 (8GB) £149.99 (16GB). Add £10 to remove the lock-screen adverts. RRP