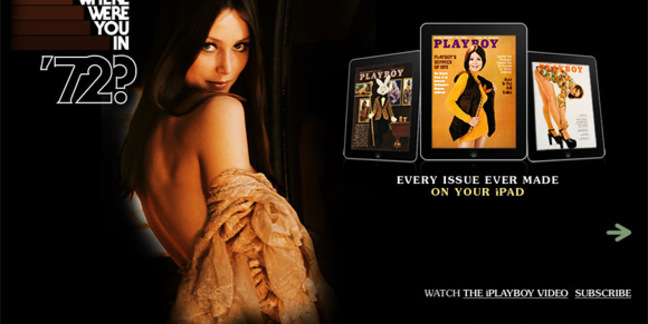 Playboy magazine has announced that as part of redesign due to hit shelves next March, it will no longer feature fully naked women.
Instead, readers will be offered "PG-13" images of women, "more like the racier sections of Instagram", as chief content officer Cory Jones put it to the New York Times.
The move is part of a more "SFW" strategy for Playboy, aimed at attracting a younger crowd via social media. In August last year, it pulled nudes from its website, and saw average reader age fall from 47 to 30, and monthly unique users up from 4 million to 16 million.
Jones assured that the print version will still feature a Playmate of the Month, plus the famous features and interviews which were, of course, the principal reason for the magazine's huge success during its heyday.
The magazine's circulation is now around 800,000, down from 5.6 million in 1975, and way below its November 1972 record of over 7 million.*
The first issue of Playboy hit news-stands back in 1953, when founder Hugh Hefner stuck Marilyn Monroe on the cover and instantly created an American classic. Now 89, Hefner has agreed to the denudification of his baby, and he and Jones believe the publication still has something to offer since the world "has gradually adopted Mr. Hefner's libertarian views on a variety of social issues". ®
Bootnote
*And the IT angle? Well, the centrefold in that record-breaking issue was Lena Söderberg, she of standard test image fame.
Sponsored: Webcast: Discover and secure all of your attack surface