Brazilian prisoner nabbed with mobile up rear end
Also packing two chargers. Ouch
---
A Brazilian prisoner allowed out of jail for a national holiday returned to captivity with a mobile phone and two chargers shoved where the sun don't shine, O Globo reports.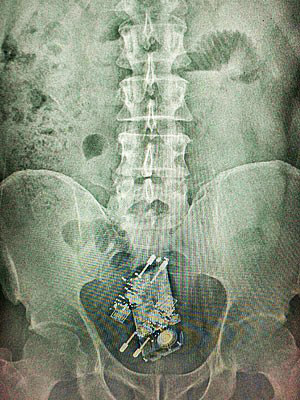 The unnamed resident of Papuda prison, in the capital Brasilia, was exposed by an X-ray (see right). The devices were in his rectum, wrapped in plastic, prison authorities explained.
While the powers that be did not say just why the reason why the chap ended up in Papuda in the first place, they did confirm that his failed smuggling attempt would result in loss of privileges and additional jail time on top of his existing sentence.
The man had, along with 1,200 fellow prisoners, enjoyed temporary liberty from last Friday until Tuesday to celebrate Brazil's National Children's Day.
These releases are to "help the process of prisoners' reintegration into society". They're granted to those lags serving time under a "semi-open" regime (working outside the prison during the day, returning to their cells at night), and who've demonstrated good behaviour. ®
Bootnote
For the "yes, yes, but what model of mobe was it?" mob, here's the offending device plus chargers. We sincerely hope the plastic cup is included for scale...