Big Blue's big storage iron gets bigger: DS8880 array uncloaked
Projected all-flash range topper due later this year
IBM has a new high-end array, the DS8880, sporting a faster processing complex which can double sequential data access speed1 over the previous (DS8870) generation through new Power8 controllers.
The DS8000 arrays are at the absolute top end of the monolithic storage array tree, and are on the same general level as EMC's VMAX and HDS' VSP arrays.
Also, HP would say, its StoreServ 20800 duo are on par with it, as well as InfiniDat's Infinibox.
We shouldn't forget Huawei's 18000 either.
IBM's DS8Ks integrate with its zSystems mainframes, Power servers and, natch, x86 servers. They use symmetric multi-processing Power8 servers as controllers
There are three models:
DS8884 entry-level system that saves on space and features easy-to-use operations and continuous availability for running critical workloads.
DS8886 mid-range array with double the DS88770 speed, six nines availability and multi-site replication.
DS8888 high-end product with all-flash media and non-stop operations
The array can scale up from 3TB to just over 3PB2 and has a high-performance flash enclosure (HPFE) module, with 400GB "ultra-fast flash cards" for the highest data access speeds. We're told storage pool striping and flash drives can virtually eliminate disk "hot spots."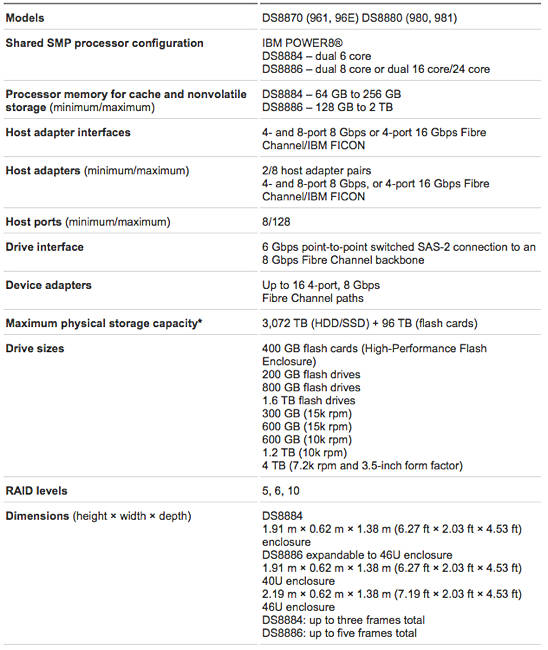 DS8884 and DS8886 specs
The range of storage media runs from 7,200rpm nearline SAS disk drives, through 10,000 and 15,000rpm SAS disks to 200GB, 800GB and 1.6TB SSDs and on to the flash cards. There is EasyTier storage tiering to help data placement.

DS8880 rack front; a black blocky brute
IBM says an EasyTier Application feature has an API developers can use to have their app tell EasyTier where to place data.
There is a better graphic user interface as well as a good spectrum of business continuity options such as FlashCopy, Metro Mirror, Global Mirror, Metro/Global Mirror, IBM z/OS Metro/Global Mirror, Global Copy and Multiple Target Peer-to-Peer Remote Copy (MT-PPRC).
We're told there is a 30 per cent reduction in footprint on a new 19-inch rack. Old racks are measured at 33 inches, which makes them roughly 30 per cent smaller. Big Blue boasts that, for every rack eliminated, customers can save $1,000 per year in operational costs.
All DS8880 components are redundant and can be upgraded with no downtime, increasing its availability. The array also features remote mirroring "that can be integrated with a high availability server capability to provide the highest levels of availability."
Infinidat's Infinibox boasts seven nines availability, meaning less than three seconds' downtime in a year. The DS8888 should beat that.
Downtime is claimed to be 31.5 seconds a year, six nines. A DS8000 with HyperSwap provides hot swap between primary and secondary Metro Mirror to be managed concurrently with normal array operations. If a DS8880 array goes down, a server sets up an immediate connection to a mirrored DS8880 to continue operations. If there is a disaster or planned outage operations can continue with six nines availability. DS8880 availability can be even higher if a multi-site recovery system is deployed.
Take a gander at IBM's DS8880 web pages here and an informative analyst's reviewhere. Download a DS8880 storage briefing PDF doc here.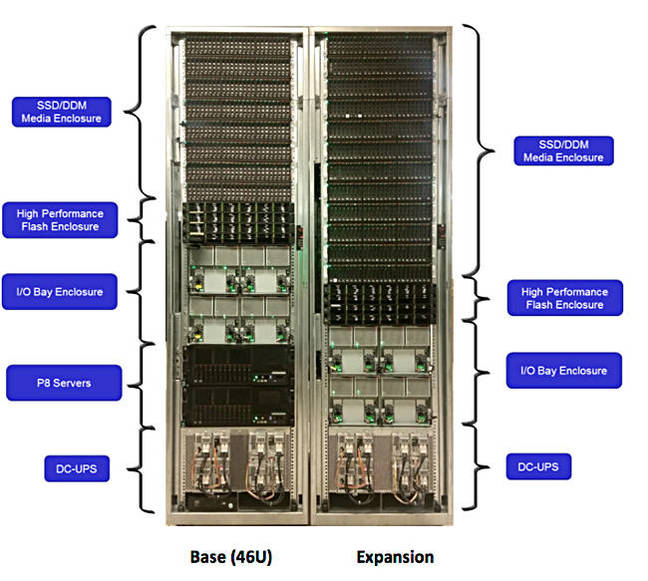 DS8886 component
We imagine the all-flash DS8888 will be a world-class heavyweight champ performer, when it comes, and probably use a bunch of the HPFE modules full of PCIe flash cards. Perhaps it will use SSDs as well, with a 2-tier design.
DS8880 pricing starts at $50,000. IBM says there are new licensing options or simplified ordering and installation, and the DS8884 and DS8886 systems are available now. The DS8888 will arrive in early 2016.
Bootnotes
1 IBM internal performance results: 2 times improved bandwidth for sequential read/writes with a maximum configuration of a DS8886 system (24 cores, 1,536 HDDs and 240 flash drives within the high performance flash enclosure module) compared vs. a DS8870 system with a maximum configuration system (16 cores, 1,536 HDDs and 240 flash drives within the high performance flash enclosure module)
2 Maximum physical DS8886 storage capacity: 3,072 TB with 768 HDD/SSD at 4TB; Maximum physical DS8884 storage capacity is 1,584 TB with HDD/SSD at 1.2TB