AMD guru Phil Rogers has joined rival Nvidia.
His move comes after AMD's top microprocessor architect Jim Keller quit in September, and another 500 staff at the company are facing the chop.
Rogers left AMD this month to become Nvidia's compute server architect in Austin, Texas. He was with graphics chip biz ATI from October 1994 to 2006, when the company was gobbled up by AMD. At AMD, Rogers oversaw system architecture and performance.
Rogers is no longer listed as president of the Heterogeneous System Architecture Foundation, an anti-Nvidia-Intel consortium that includes the usual non-Chipzilla gang: ARM, Imagination, Mediatek, Qualcomm, Samsung, and so on. The group's goal is to create an architecture that melds graphics accelerators and application processors together into the same virtual memory address spaces so software can easily use GPUs to speed up tasks. It should also drive down power usage by simplifying the design of systems with fewer buses and controllers.
In March, the foundation published its specification for making HSA-compatible processors and chipsets. AMD's Carrizo family of system-on-chips, revealed in February, are HSA-compliant.
On September 6 this year, the foundation's website read: "Phil Rogers, AMD Corporate Fellow, is the lead architect for the Heterogeneous System Architecture, focused on drastically reducing the power consumed when running modern applications, and enabling the software ecosystem for heterogeneous computing."
Now that page's entry for its president is blank.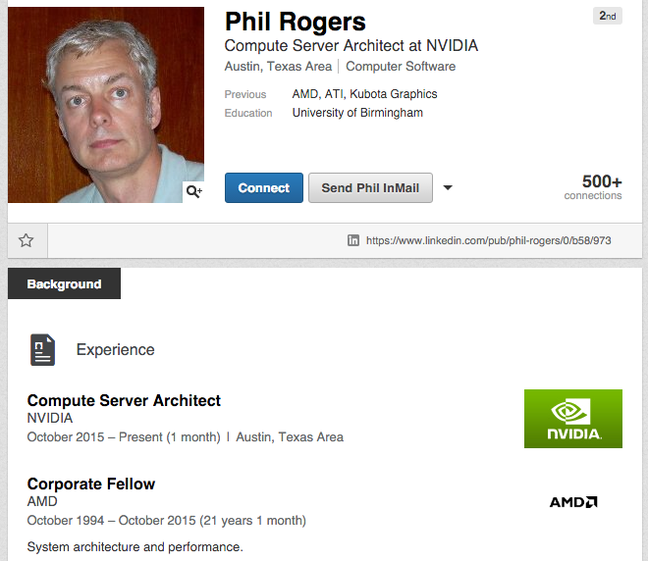 Phil's good, man ... Rogers' LinkedIn page on Tuesday this week
And he's working for Nvidia. His role on compute servers is rather telling, and logical given his background gluing together parallel-crunching GPUs and beefy CPUs to get the right workloads onto the right silicon to maximize throughput.
"The HSA Foundation would like to thank Phil Rogers for his four years of service to the HSA Foundation," the organization's board of directors said in a statement.
"The Foundation greatly appreciates his mentoring the next generation of leaders who will help usher in widespread acceptance and adoption of heterogeneous computing. The HSA Foundation community of leaders and members will continue to collaborate making programming for parallel computing easy and pervasive. We wish Phil the best in his new endeavors."
A spokesperson for AMD was not available for immediate comment. ®