EMC/Dell deal Michael Dell has named one Dell exec – Rory Read – and one EMC exec – Howard Elias – to oversee deduplication of the two companies' product lines.
"Rory's new job is he's going to lead integration for the Dell side, reporting to me," said Michael Dell, in response to a question from the floor during an all-hands meeting to discuss the Dell-EMC takeover, held at Dell HQ in Round Rock on 13 October.
"There's a gentleman named Howard Elias in EMC who's going to lead integration on the EMC side [who will] report to Joe Tucci," added Dell-the-guy. "And we're going to start our integration planning right away."
Read is COO and president Worldwide Commercial Sales at Dell, having come to the company in March this year after being CEO and president at AMD. Howard Elias is president and COO of EMC's Global Enterprise Services operation.
EMC's chairman of the board of directors, president and CEO Joe Tucci, was present at the meeting, along with Michael Dell, Marius Haas and various other Dell execs.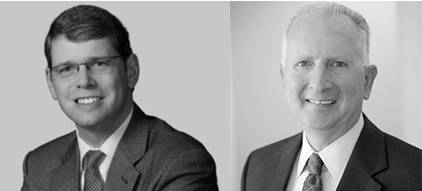 Rory Read (left) and Howard Elias (right)
We have seen a copy of the meeting transcript. Dell-the-guy started with ra-ra aspects of the deal, saying "we become a company with a leadership position in 22 Gartner Magic Quadrants". Who wouldn't?
He talked about the enormous disruptive changes facing the IT industry, and said: "We made the first move and now the others will have to scramble to kind of contend with that ... it's go big or go home. And we're going big, baby."
He said Round Rock would stay on as Dell HQ, with innovation hubs in Hopkinton (EMC) and Silicon Valley, where VMware is headquartered. Dell said: "We are taking our ESG business and we are putting it into the enterprise business that EMC has [in] Massachusetts," run by David Goulden.
With regard to branding and the Federation, Dell said: "What EMC did actually worked better in many cases than what we did. And so you know I like that. I think we can learn from that. I also think on this page here, you've got some of the strongest brands in our industry, and we would be really foolish to do anything other than to enhance those brands.
"There's a lot to be said for the EMC strategy, which was to allow these units [Pivotal et al] to flourish and grow, aided by the parent company," he added. "Now, the parent company just got a whole lot larger – or will become a whole lot larger – and is a privately controlled company. So that continues to give us lots of flexibility."
Michael Dell and Joe Tucci emphasised their friendship, with Tucci describing Dell-the-man as "my brother from a different mother", and confirming he was staying around to help the deal consummate.
Tucci said the industry changes that drove Dell and EMC together affected everyone: "The disruption will be huge, and many, many companies are just not going to make it and will become, or will be [not] as great as they are today. Next year from today, many will not even make it period."
The meeting was told there's a high degree of complementarity in what Dell and EMC do. Dell said: "Within each of the areas of the company, we're going to go through and look for all the opportunities that are created here ... Rory and the team will be coming back with regular updates."
As for the overlaps, they're "not as big as they may appear at first when you do a more careful sub-segmentation of various parts of the market. It turns out a lot of places where we are strong, EMC wasn't as strong," said Dell.
Yes, yes, and yes again, but VNX overlaps strongly with the SC and PS arrays from Dell. It's hard to see how any sub-segmentation exercise can provide a role for all three products.
+Comment
One note: paying off the debt from the deal would not be as difficult as some analysts have thought as EMC would no longer have to pay dividends to shareholders and spend a billion-plus dollars a year on share buy-backs and interest repayments. ®
Similar topics