EMC traditional storage decline accelerating
The slope gets steeper
---
Revenues for EMC's traditional storage products are declining faster and faster as enterprises prefer converged/hyper-converged and cloud alternatives.
Analysis of EMC's preliminary third quarter results by Stifel MD Aaron Rakers shows accelerating year-on-year declines in EMC's traditional storage products, including VMAX, VNX and the Data Domain-type products.
He's worked out that the declines for the third quarter and the three before that were -3, 9.5, -11 and -15.5 per cent.
We've charted this along with Rakers' numbers for EMC II overall and its Emerging Storage segment – XtremIO, Isilon, DSSD, Atmos, etc – and mostly driven by XtremIO and Isilon.
The chart is unambiguous in showing an accelerating decline in legacy storage product revenues. One part of the DEll-EMC bid rationale is probably to boost legacy storage product sales by adding Dell's channel to EMC's and so boosting legacy storage sales.
Rakers says this "highlights the significant/accelerating changes occurring in the enterprise storage market."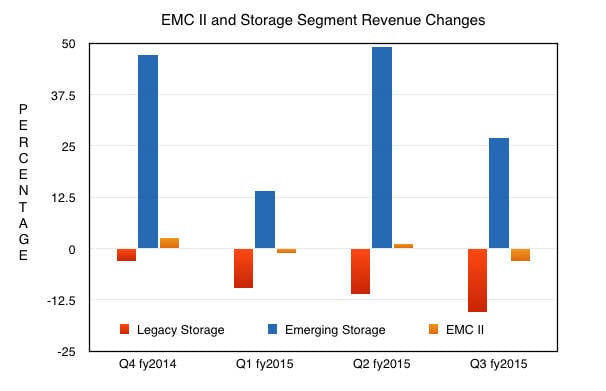 EMC II and Storage Segment Revenue Changes
+Comment
Your correspondent's take in this is that, if possibly the best direct sales/channel sales organisation in the industry is seeing this decline with legacy storage products then the implication is that every other legacy storage supplier is seeing it too.
The report from Rakers says: "As a private company we believe the Dell + EMC combination could benefit from an acceleration in the reallocation of resources toward next-generation solutions/architectures." ie, away from legacy storage towards newer, emerging storage products, including hyper-converged ones.
Rakers also notes that Michael Dell will be chairman and CEO of a combined Dell-EMC business, and he will make final decisions on which executives fulfil which roles in the new enterprise. This will make EMC execs majorly keen to impress the $67bn dollar man from Austin. ®