This article is more than 1 year old
Microsoft now awfully pushy with Windows 10 on Win 7, 8 PCs – Reg readers hit back
Pitchfork time after Redmond force-feeds upgrade
Updated Have you noticed Microsoft being a little too eager in pushing its Windows 10 upgrade lately?
You're not alone.
The Reg news tip inbox has been awash the past few days with readers reporting that the newest version of Windows has been forcing itself onto computers amid other operating system updates, and sometimes even downloading itself after users thought they had opted out.
Some of our readers tell us the updates have gone so far as to change personal settings and push updates they had previously removed or asked not to receive. Upgrading to Windows 10 has even appeared as an "optional" update that's automatically ticked and ready to go.
Reader Matthew Banwell is among the aggrieved PC-using folks. He sent us his story complete with a screenshot of the pushy update:
In the latest raft of MS updates, the "optional" Windows 10 option on this Windows 7 PC was pre-ticked. Can that be right? If I hadn't noticed it would have caused havoc here.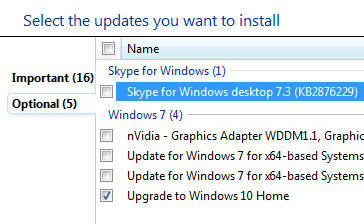 Microsoft, I think you're unclear on what 'optional' means
Matthew isn't alone. Reg reader James relays the following experience:
My Windows 8.1 system wanted to perform updates today so I opened "check for updates" in the control panel. It was asking to upgrade to Windows 10. After some checking around, I found the slightly hidden link to select the "other" downloads and unchecked the upgrade to Win 10 and selected the other security updates for Win 8.1. It still started to download and install the Win 10 upgrade! Now the computer starts up and tries to install Win 10 when I first log in which I am able to cancel.

This is on our company's critical backup computer and anti-virus server so I don't want to upgrade!
James was able to get the updates to stop and noted the following:
I was able to kill the download process, remove update KB3035583 and hide both it and the Win 10 upgrade (after several reboots) and am now back to normal. There appears to be a trick to unchecking and hiding the Win 10 update. When I first unchecked it, it still continued to install. The second time, I unchecked and hid it and then selected the main Windows Update from the address bar in the control panel and it no longer showed upgrade to Win 10.
Reader Mark also snapped up a shot of the shameless update-pushing and sent us a brief description of what he's seeing:
I don't know if you've had this happen or heard yet but even if you removed all of the Windows 10 "preparation" updates from Windows 7, we're now getting hit in Windows Update with "Upgrade to Windows 10"...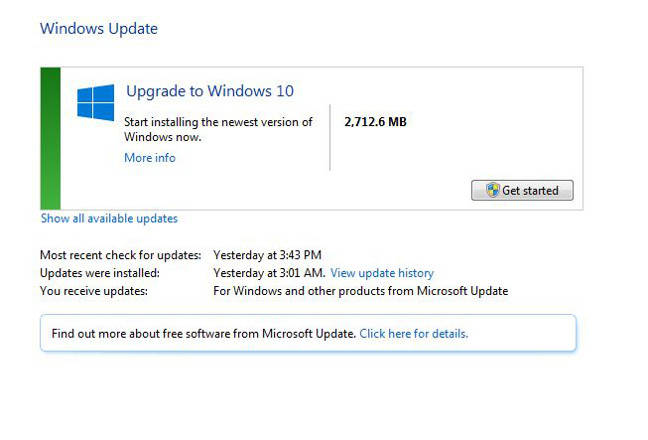 Ready or not, here it comes...
Count Reg reader Dennis among the angry PC punters. Here's his story:
My approach to their updates is to control Windows Update manually each month. Today, after the usual scan of the machine to identify which updates are required, Windows Update put up a screen trying to get me to install Win 10. This is despite my having blocked their installation tools in my firewall, and having renamed the suffixes on those tools to prevent them from running.

There is an option to show all available updates. This leads to the usual list of Windows 7 and Office 2010 updates. After selecting all but the one that is an undercover Win 10 tool, and hitting OK, Win Update merely returned me to where I was before: confronted with a Win 10 upgrade and no obvious way of cancelling out of it.
It gets worse. In some cases, users have noticed the Windows 10 updates are being aggressively pushed even when they just try to repair their PCs. So says reader Kia Foster, who went so far as to bring one William Henry Gates III into the mix:
I was using my Windows 7 as usual this evening and all of a sudden blue screen, and then it rebooted and asked me if I wanted to start as Normal, which I chose. Then as it was nearly fully rebooted it came up with a small Dialog Box asking if I wanted to "find a solution" to the problem. I chose that and was then presented with a 6-inch square Microsoft advert asking me if I wished to download and upgrade to Windows 10. As you will know we already have some little bit of software that MS sneaked on to keep offering upgrade to Windows 10, and I wonder if this Blue Screen was/is a Microsoft-initiated one, deliberately pushing people to upgrade to Windows 10 ??? Bill Gates should be very very very concerned that it appears that Microsoft is losing its credibility as an honourable company !!
We have asked Microsoft for its thinking on this upgrade cramming, but so far no word from Redmond. Microsoft now emits updates without explanation, so you may never know for sure what's inside them. Having said that, keep an eye out for the KB3035583 upgrade that installs the Get Windows 10 app.
Finally, why not share your experiences in the comments section below. ®
Updated to add
After a to and fro between El Reg and Microsoft's spokespeople, it has emerged that the "optional" Window 10 update should not have been ticked, and was a blunder by Redmond.
"As part of our effort to bring Windows 10 to existing genuine Windows 7 and Windows 8.1 customers, the Windows 10 upgrade may appear as an optional update in the Windows Update (WU) control panel. This is an intuitive and trusted place people go to find Recommended and Optional updates to Windows," a Microsoft spokesperson told us on Friday.
"In the recent Windows update, this option was checked as default; this was a mistake and we are removing Windows 10 from Windows Update for users that have not reserved a copy of Windows 10."