China finally says yes to WD-HGST union
But sales, brands must extend betrothal 2 more years
+Comment MOFCOM, the Chinese trade regulator which has been holding up the integration of WD and HGST, is relaxing its "hold separate" restriction and integration can start now. But the two brands and sales forces must stay separate for two more years.
Western Digital can "integrate substantial portions of its HGST and WD subsidiaries" while continuing "to offer both HGST and WD product brands in the market and maintain separate sales teams for two years from the date of the decision."
This will enable Western Dig' to start combining operations, sharing technology, such as helium-filled drives, and saving substantial costs, with $400m in annual operating expense savings mentioned.
Western Digital bought competitor HGST in March 2012 for $4.8bn. At that time John Cyne ran WD. He since retired, with HGST bss Steve Milligan taking on his job. MOFCOM, the Chinese trade regulatory body, said the merger couldn't complete for two years with WD and HGST running as two separate businesses, owned by Western Digital.
In the event it has held up the integration of the two businesses for more than three years.
At the end of September China's Unisplendour Corporation invested $3.8bn in Western Digital, a move that WD said explicitly was not linked to the ongoing MOFCOM negotiations.
And now, less than three weeks after that, MOFCOM has partially caved in. We couldn't possibly comment.
The company will begin integration activities at once and expects them to take two years. Functions affected will include research and development, disk heads and media operations, engineering and manufacturing.
In other news Western Digital has announced a new executive management team, and it looks almost like HGST executed a reverse take-over of Western Digital.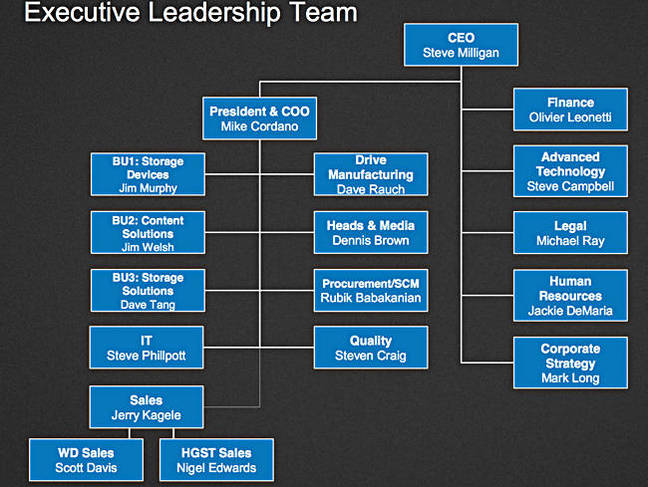 New WD exec team org chart
Steve Milligan continues as CEO. Mike Cordano, previously president of the HGST subsidiary, becomes president and COO of Western Digital and "will head a business leadership team with balanced representation of proven leaders from the company's two former subsidiaries."
Jim Murphy, who was president of the WD subsidiary, will run the Storage Devices business unit, which includes both HDD and SSD products.
A person who was close to the corporate action in Western Digital and HGST said: "All key positions are with HGST people; it's a reverse buyout. First HGST took Coyne's money to buy themselves (probably with a clause that Milligan is becoming CEO) and then they watched WD dismantling itself."
Check out a WD Frequently Asked Questions doc on the MOFCOM move here. (PDF)
+Comment
We expect Helium drive technology to spread into WD's disk product line promptly and for the two sets of products to start reducing overlap, albeit retaining separate WD and HGST brands for what will be effectively the same products. How ridiculous – but then, in our view, this whole MFCOM saga has been, and still is, a foot-dragging exercise by an over-zealous regulator. ®