Separate, but subtly similar
Besides the operating system, both of the devices share a number of features - most notably the camera hardware. Both carry the same 12.3 megapixel rear-facing camera, which Google has been raving about since launch, and come with Google's upgraded Photos app.
The camera has a Sony sensor set to handle 1.55 micron pixels, significantly larger than any other mobile phone vendor out there. Google claims this improves both low-light photography, and makes optical image stabilisation much less of an issue.
That works, up to a point. In low light conditions both handsets did better than their predecessors, particularly for indoor photography. But image stabilization is still – well – shaky, at least for off-the-cuff shots.
Pleasingly, Google has recognised that we don't want to be wasting time clicking icons when there's something picture-worthy happening. A double-click on the power button instantly brings up the camera and a simple swipe changes the recording to a video.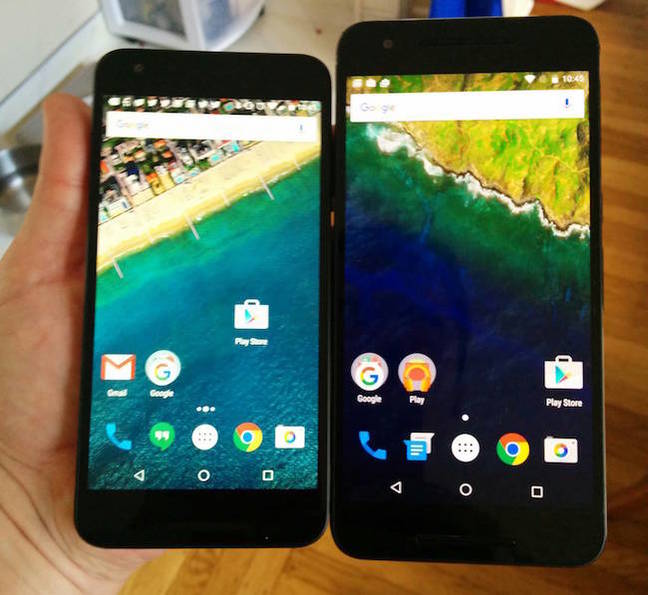 A bit of a handful ... the two new Nexus smartphones (the 6P is on the right)
Also included is software that can handle recording 4K video, or taking 30 frames-per-second recordings and then storing them as gifs or sorting through each still image to produce the best picture. This, and the hardware, puts both handsets on a par with the latest iPhones.
Google has a long way to go before it can compete on camera quality with Microsoft's top-end Lumia devices, which use very large sensors and break the 20 megapixel mark – albeit at the cost of having to use Phone 10 and suffer an app famine. Nevertheless, Google's new cameras are a welcome improvement.
Google has also embraced fingerprint recognition with the new smartphones. Both have a rear-mounted fingerprint sensor just below the main camera and in testing it worked very well indeed.
Getting the software to learn your fingerprint takes less than 10 swipes and, once installed, the reader is surprisingly versatile. The prime fingers can be applied at any angle and still unlock the phone.
Another similarity is the shift to USB Type C connectors with both handsets. The new connectors have a number of technical advantages, but that's just window dressing on the sheer joy of never putting a USB connector in the wrong way again.
The new connectors are certainly marvellous when it comes to charging. Android 6.0 has a fast charging function built in and this, coupled with the new connector, means you can get much better amounts of battery life out of both devices than we've seen so far.